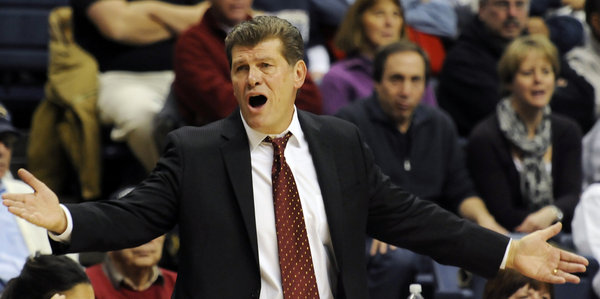 Posted by Matt Norlander
What better way to get people to talk about UConn basketball on such a historic night than to make it about him, his team, his game? After all, it has always been about him, in some regard. (That is not an across-the-board knock, for the record.) The 88-game winning streak isn't enough. Sorry, but it just isn't; too many people couldn't care less about women's basketball. So, to take the conversation to another level, some personal insult and frustration had to be injected. Some things needed to be removed from his chest.
I have to give credit to the crafty Geno Auriemma, who's coached the Huskies for the past quarter-century and become as much a face, if not more so, of women's college basketball than Pat Summitt, the Tennessee trailblazer that came before him. After top-ranked UConn breezed by No. 10 Ohio State Sunday afternoon, 81-50, in front of the largest women's basketball crowd in Madison Square Garden history, Auriemma
went on a rant
that will go down as one of his best.
What better time to deliver this than now, at the apex of attention, the streak now one game away from passing UCLA's 88 mark in the men's game? None better. Here's what Auriemma said to a room full of reporters at MSG yesterday.
"I know there would not be this many people in this [press] room if we were chasing a women's record," Auriemma said after the game. "The reason why everyone is having a heart attack the last four or five days is a bunch of women are threatening to break a men's record, and everyone is up in arms about it. All the women are happy as hell and can't wait to come in and ask questions. All the men who love women's basketball are excited, and all the miserable bastards who follow men's basketball and don't want us to break the record are all here because they are pissed. So that's the way it is.

"If we were breaking a women's record, everybody would go: 'Aren't those girls nice.' Just give them two paragraphs in USA Today or give them one line on the bottom of ESPN, and let's send them back where they belong in the kitchen. But because we are breaking a men's record, we have a lot of people paying attention."
As an aside: Who's up in arms about the UConn women breaking the record set by the UCLA men in 1974? If anything,
most people
are
insisting
we properly package each streak in its own, separate category. They are two different sports, entirely. Yes, comparisons are inevitable, and Auriemma needs to accept that, but I haven't seen much chagrining about this record falling. That's primarily the case because most are cognizant of the differences in the sport.
But I have to hand to Auriemma, who's an incredibly smart man. He touched on this during a
Q&A with Time
last week, then harped on it even more yesterday. He's on the money when he says this would be a little blurb in most national outlets if a women's 88-game streak was being broken. It's just our sports culture. American society, in comparison with the attention men's sports receives, doesn't have the desire in following women's sports. I'm pretty certain Auriemma is all too aware of and OK with that.
In order to maximize exposure, he was going to have to deliver a soundbite, and boy don't we know how he's capable of that. As he's gotten older, it seems we get at least one noteworthy clip per season. So in his diatribe, Auriemma opens up a greater, over-arcing conversation. In doing so, ironically, the comparisons between this team John Wooden's become more amplified.
But at the very least, it's more noise surrounding the women's game, which is always only good news for Auriemma and his Huskies. We're talking about it today, aren't we? If the coach doesn't lash out, how many blog posts or columns on the subject bubble up?
Photo: AP.