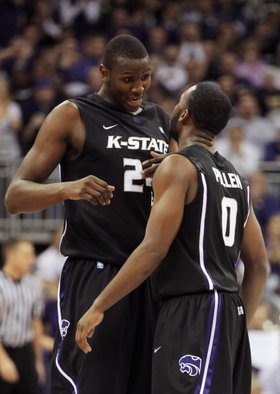 Posted by Matt Norlander
You will be able to read a column from our esteemed leader,
Gary Parrish,
who was at the game, in just a little bit. Until then, here's your blog analysis, being that the game's gone final and the big news from the night is well-known.
Shortly before the team was scheduled to play UNLV Tuesday night (who knew this was being
dubbed the Hy-Vee
Wildcat Classic?), Kansas State released the news: stars Jacob Pullen and Curtis Kelly were suspended from playing,
effective immediately.
Pullen will sit three games; Kelly's punishment isn't known, but it's expected to be longer than that.
"These young men have worked hard to represent themselves and Kansas State in a positive manner," KSU coach Frank Martin said in a brief statement. "Having said that, they made a mistake in judgment and have to pay a price."
The mistake was, according
to sources,
the two getting discounts on clothing at a department store from a female employee. (Want to know why Kelly's impending punishment is probable to be more severe than Pullen's, by the way.) Just a couple of college guys perhaps flirting with a friend/acquaintance and making a mistake. The primary point of criticism you'll read in the coming hours: Kelly and Pullen knew better.
Not should have known better, but knew better. Their discount on threads is only a secondary violation, fortunately, but it's one every scholarship athlete is schooled and talked to about annually.
Don't take things from other people. Don't accept gifts. Don't try and skirt the rules on gifts.
But they did, so prices to pay, etc. Can you imagine if all of this is over a pair of gym shorts and a couple of socks?
As for the game, the news of the two's benching caused the Vegas line to
hop immediately.
In this case, it seems very clear had Pullen and Kelly been on the floor at the Sprint Center in Kansas City, the Wildcats would have won. But they didn't, and Vegas (11-2) defeated Martin's club, 63-59. Kansas State fell to 9-3. We can fairly and definitively connect A to B here: Kelly and Pullen attempting to obfuscate the rules cost their team at least one win.
And the game wasn't the only thing lost on behalf of the Wildcats Tuesday night; K-State sophomore Rodney McGruder lost a tooth after his chompers slammed against the maple midway through the second half.
The one thing about this game and the next few: The results might not have too much of an effect on K-State's seeding. After all, the NCAA Tournament selection committee judges a team on the state it was in for wins and losses and evaluates/adjusts to the personnel a team has come Tournament time. If the Wildcats go on a big winning tear after the two return, this may not even cost Martin's team a seed line.
You can follow Norlander on Twitter: @CHJournal

Photo: Getty Images