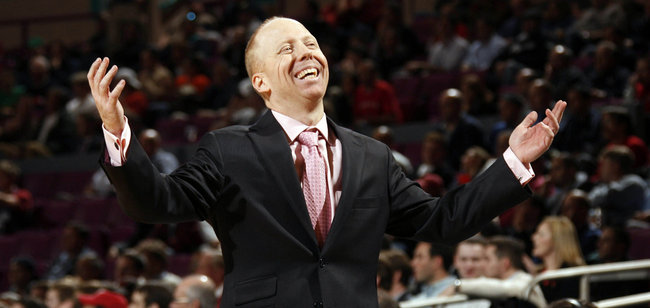 Posted by Matt Norlander
Huh. Lookie here: Without the third-leading scorer in school history (Deonta Vaughn) and a first-round draft pick (Lance Stephenson) the Cincinnati Bearcats are winning at a higher rate than they did with those guys. Mick Cronin's (above) 12-0 team defeated Miami University Tuesday night, and Wednesday afternoon I caught up with him on the phone about the hot-but-largely-unnoticed start.
After all, have you paid much attention to the Bearcats? Do you consider this team even worth a watch at this point? It's been years since Cinci started a season is such fashion. It began 2004 13-0 and 2005 11-0 — the final two years it was in Conference USA, by the way — but that was back when Bob Huggins was coaching the team. That's part of the problem: Since it jettisoned C-USA and lost the longtime face of its program, Cincinnati has become second-tier in the Big East. It's part of why you haven't been talking or thinking about it much, if at all, through the first seven weeks of the season.
But that's fine with Cronin, who's in his fifth year at the helm in the Queen City. The coach doesn't expect or want praise until his team can finally prove itself worthy in the Big East.
"Whether it's our locker room or you read quotes from around our conference, all our players in our league understand what it's about," Cronin said. "It's good to have veteran players because they understand we have to continue to improve in every area to get ready to prove it in Big East play."
Cincinnati's unblemished record is largely due to its non-conference schedule, which ranks 337 out of 345 in Division I, according to KenPom.com. The toughest team it's defeated to date, by my count, is 10-3 Dayton, which has been underwhelming this season. Still, the Bearcats did lead the Flyers 42-19 at the half and were winning by 39 points with 10 minutes to play. Impressive.
Cronin crowed over the phone about this team's underrated talent level. But is this team too talented to do what previously hot-and-unbothered Tennessee just did: lose three straight?
"I don't think Duke is too good to lose three in a row," Cronin said. "We're all capable of losing three in a row if we don't play the way we need to play."
Aside from the soft schedule, the other reason for the promising start: "They're a lot easier to coach. Kids are more receptive to learning when you're winning," Cronin said. "We are better this year because of last year. We were 0-3 in overtime and lost six games in the last 30 seconds last year. We were too immature, didn't play smart enough and we weren't as unselfish as we needed to be."
When Cronin knew for sure that Stephenson was leaving, after Stephenson initially promised to return for his sophomore season, the coach went to his team and told them they'd be just fine. No need to panic about the recruiting trail or wooing in possible transfers.
"I told the guys, 'I don't think we need anybody. I think we've got enough talent right here to win,'" Cronin said. "I told them, 'Our problem is not talent. Our problem is between our ears.'"
The other two conversations the coach made sure he had: talk to Yancy Gates about becoming more selfish (ironic, given the coach's viewpoint on his team's widespread charitable nature), and giving an ultimatum to senior Rashad Bishop.
"I told Rashad he wouldn't be back on the team for his senior year unless he accepted and embraced the role of being a senior leader," Cronin said. This season, Bishop is in the top 30 nationally in offensive rating.
Meanwhile, Gates, a Cincinnati native, has become the star on this team, taking 28 percent of the team's shots and blocking nearly 7 percent of opponents'. Gates was the guy responsible for quite a bit of the team's success last year too, but with Vaughn and Stephenson leaving a void, the 6-9, 265-pound junior has handled expectation well and learned to think for himself — to an extent.
Cronin said, "Sometimes I used to think I wanted it more for him than he wanted it for himself. But that was in the past, not now. He's matured to the point where he understands what it's going to take. He is not the typical kid this day and age. He grew up a Cincinnati Bearcats fan and all he cares about is us winning. Last night he had eight points and eight rebounds and was the happiest guy in the locker room. But I still want him to be more selfish, in a good way."
Cronin tries so hard to keep his team positive, which isn't the easiest thing to do, considering many wondering how long it would be until he was fired and the school would bring in another personality with pizzazz like Huggins embodied.
"I block all of it out," Cronin said. "I'm well aware today's news goes out in tomorrow's garbage. … I'm not worried about my job. I don't think that way. Let's just try to be as good as we can be."
And he doesn't put his job status or success level at merely making a few NCAA tournaments.
"I've never seen the point in just going to the tournament, like you're going and that's good enough," Cronin said. "You're going and not trying to win it all?"
Because it lacks quality in the non-con, we don't know the ceiling for this team yet. But we do know no opening third of a Bearcats season under Cronin has been as positive or successful as this one.
Follow Norlander on Twitter: @CHJournal
Photo: AP