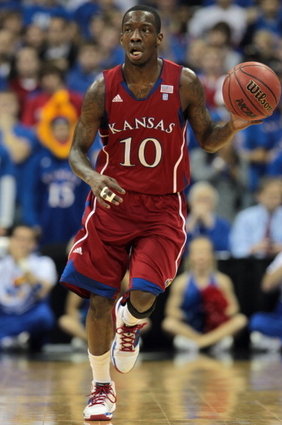 Posted by Eric Angevine

If a red-nosed reindeer can guide Santa Claus through a Christmas Day blizzard, perhaps the big guy can loan him to college hoops nation now that his rounds are done for the year. The Kansas Jayhawks have yet another reason to be glad that Josh Selby is eligible for Wednesday's game, as junior guard Tyshawn Taylor may be stuck in his home state of New Jersey for a while.
"Tyshawn could not get out today. All the flights were canceled," KU coach Bill Self said Sunday night, referring to Hoboken, N.J., junior guard Tyshawn Taylor.

"Hopefully he can get out tomorrow. It's snowing so hard they don't even know if they can drive to the airport," Self added of Taylor, stuck in Jersey because of a blizzard that's expected to dump up to 20 inches in New York/New Jersey by this morning.

Five other Jayhawks from the East were able to flee the wintry weather in time for Sunday night's practice in Allen Fieldhouse.

Twins Marcus and Markieff Morris flew out of Philadelphia early Sunday, as did Josh Selby from Baltimore and Thomas Robinson from Washington, D.C.

-Gary Bedore, Lawrence Journal-World
Just for kicks, I decided to try and guess at KU's lineup if none of those players had made it back to Allen Fieldhouse for the Wednesday game against Texas-Arlington:

PG - Brady Morningstar
SG - Elijah Johnson
G/F - Tyrel Reed
PF - Travis Releford
C - Jeff Withey

For the record, Mario Little is suspended right now, so the rotation would be severely handicapped in addition to being on the short side already. Also, that's Morningstar and Reed, both seniors from the state of Kansas, Releford, a redshirt soph from Kansas City, and Johnson and Withey from the western climes of Nevada and Arizona. The KU bench would have been seldom-seen Arizona-based freshman Royce Woolridge and walk-ons Niko Roberts, Jordan Juenemann and Conner Teahan - all guards.

Essentially, if several key members of the team hadn't booked redeye flights, UTA would have had a shot at a headline-grabbing upset.

#SNOMG!