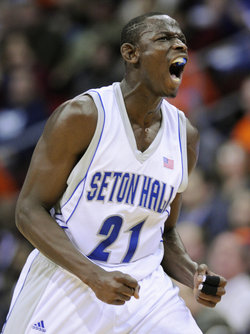 Posted by Matt Norlander
No program in 2010 has had more topsy-turvy turns, felt more helter and skelter, than Seton Hall.
The Pirates are the New York Jets of college basketball. While that analogy is not flawless, hopefully you can see the general correlations between the two. (Though, does Bobby Gonzalez's affinity for the man-purse count as a fetish?) Of course the expectation level and public devotion for the Pirates does not nearly match that of Gang Green. Still, both New Jersey-housed teams have seen their year dominated by stories that have had more to do with performance outside the playing arena.
The latest drama for SHU came over the weekend, when Pirates shooting guard Jeremy Hazell (right) was nipped in the arm by a bullet. Hazell was with his family in Harlem when they were victims of an armed robbery. He's doing fine now (thrilled that he is OK) and is believed to be joining the team today in practice.
The Hazell incident got me to thinking about how screwy the past 361 days have been. (Still four left to squeeze in one last bizarre bit of news, you know.) So let's take a look back at 2010, through a Pirate's eye. No need to run the gamut on the Jets; you're probably all too aware of those 36 subplots.
• After Robert Mitchell criticizes former coach Gonzalez to the press amid a disappointing end to the 2009-10 season, Mitchell is promptly kicked off the team.
• Less than 24 hours later, Mitchell and former SHU player Kelly Whitney grab guns and rob eight people.
• Following his team's 15-point loss to Notre Dame in the Big East tournament, Gonzalez makes his case for his team to earn a bid … to the NIT. It works. Seton Hall earns a 4-seed.
• The Pirates are beaten at home in the first game of the NIT by No. 5 Texas Tech. The game causes a stir because Herb Pope punches an opposing player in the groin.
• Within hours of Seton Hall's season coming to an end, Gonzalez is fired.

• Twelve days later, former Iona coach Kevin Willard is hired.
• The next day, Hazell, who has been known to take 347 shots in some games,
enters his name into the NBA Draft.
Less than a week later,
he withdraws.
• In late April,
Herb Pope collapses
at a team workout,
technically dies,
then comes back to life.
• A month goes by, and all is silent on the Seton Hall front. Then Gonzalez
is caught attempting to shoplift
a
European carry-all.
The man who was once the hottest coaching prospect on the East Coast is no longer employable.
• On a Friday in late June,
Mitchell and Whitney are charged
with kidnapping, aggravated assault, burglary, robbery and possession of weapons.
They confess.
• Pope's
comeback story is the best thing about Seton Hall basketball
in 2010.
• As the first year under Willard begins, Seton Hall
fails to beat
any of the
legitimate teams
on its schedule
and stumbles
out to a 6-6 start to its 2010-11 season.
• Hazell
takes a bullet on Christmas.
The primary scorer for the Pirates has been out 39 days since injuring his left wrist, and whether he returns or not
will have a lot to do
with determining how Willard's first season at the helm turns out.
You can follow Norlander on Twitter: @CHJournal

Photo: AP