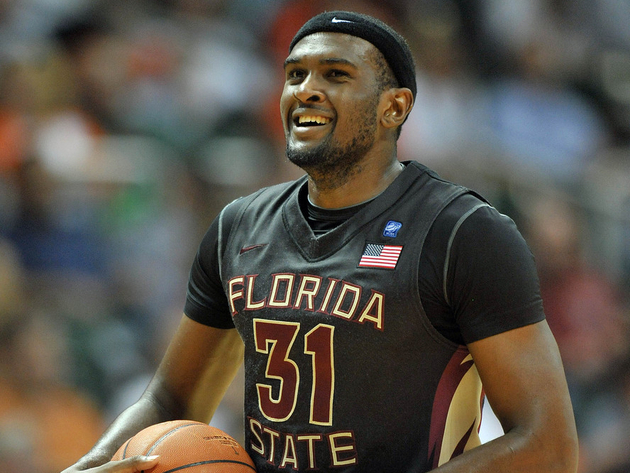 Posted by Matt Norlander
As we prepare to swing into 2011, second place in the Atlantic Coast Conference is considered to be up for grabs.
Because of Chris Singleton, Florida State has as good a chance as any team to be the beta to Duke's alpha.
What's special about Singleton? He's tremendous around the rim and in the paint. He's experienced and has gotten better in his role with each season he's played for the 'Noles. He's abnormally adept to swiping the ball for players his height. Most of all, he's a lot of fun to watch, even on a team that has stretches of really bad offensive hoop. There's a certain distinguishable-only-by-the-eye quality to some players at the college level. Singleton embodies it. (For comparison, David Lighty at Ohio State and Chris Wright at Georgetown also apply.)
FSU's games can be a grind at times, but the 11-3 Seminoles are the
best team in Division I
at guarding the 2-point shot (which is why they'll likely struggle to keep pace with 3-point-efficient Duke). They are the
second-most efficient team
at blocking the basketball. This has been FSU's identity for awhile now, yes, but Singleton wasn't always the reason. In fact, this is a little astonishing, considering
7-1 Solomon Alabi
left the program to pursue the NBA after last season (when FSU was second-best at guarding the 2 and fourth-best in blocks).
One more tempo-free stat you must know: FSU is
third-best squad in effective field goal percentage defense
(often shortened to eFG%). When a space-eater and shot-swatter like Alabi abandons you, it's not the easiest thing to replace his production/keep other teams from producing. But Leonard Hamilton has coached his team efficiently in this regard. No. 31's drive and uptick in his game should be just as applauded.
Singleton, a 2008 McDonald's All-American, isn't the only reason for this (we'll name-drop the others in a sec), but he's clearly the most critical. The 21-year-old is in the top 12 percent (approximately) in
10 of the 15 tempo-free categories listed
at KenPom.com. I don't have the time to track down how many other players are elite in 66 percent of the trackable categories, but I'm guessing it's less than a full bench's worth.
Last season, when playing under Alabi's massive wingspan, Singleton was elite in only four categories, though two of them were block and steal percentage. His offensive efficiency could afford to go up, but his rebounding, blocking and steal rates are all strong for a player who is a skinny-built 6-9 tweener of a forward.
Here's a look
at how Singleton's block percentage has pathed itself out the past three seasons, along with his
possession percentage
(a big jump) and
eFG%
, which needs to trend up instead of down to get FSU a better chance at not only vying for second in the ACC, but earning a good seed in The Tournament.
Xavier Gibson, a 6-11 junior, and Terrance Shannon, a 6-8 sophomore, have helped FSU and Singleton in the colored part of the court this season, but he's going to need a little more help to get and keep this team in the top three of the conference, which is weak all around yet again. And FSU only has to play Duke once, and it's a home game on Jan. 12, so who knows?
Because Hamilton's team plays such suffocating defense, it's going to have a chance in most conference games. But Singleton's play and potential is what really will give this team a shot at playing above the team's expectations, even if in doing so he reaches his.
Photo: AP