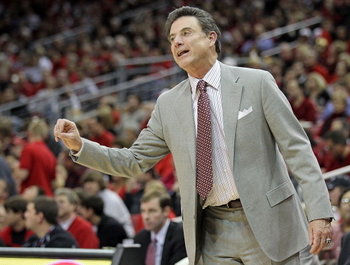 Posted by Matt Norlander
In the past few years, we've seen
more
and
more
athletes use
their websites
as a
platform for communicating
with not only fans, but also media.
(This is a good and bad thing, but that's another discussion for another time.)
This morning, in a post he titled, "RED ALERT!!!!!" (both I and
Elaine Benes
endorse his affection for the exclamation point) Louisville coach
Rick Pitino used his site
(go to the top right to kill that damn autoplay music) as a way to clarify to Cardinals fans and others why he
recently accepted the head-coaching job
of the Puerto Rico national team.
In doing so, he took a dig at Jeff Goodman at FOXSports.com, a much-needed dose of reality dealt to the national college basketball writer (still love ya, Jeff!) who opined
Pitino only took the job to bolster his recruiting classes.
One of our good friends, Jeff Goodman, seems to be confused on why I became the coach of the Puerto Rican National Team. Jeff is a guy most of us in college basketball like and respect, as he provides us with great insight into college basketball. However, because he did not ask me why I took the job prior to posting several of his articles, I will now explain it to the Cardinal nation…
Goodman, a good-hearted master in banter with media members and coaches,
immediately returned the jocularity on Twitter.
In the post, Pitino goes on to list the five primary reasons why he's taken on the extra workload. It includes working with close friend and current Cardinals assisant Ralph Willard; less travel (Louisville will now change its offseason foreign trip from Australia to Puerto Rico); the challenge of qualifying for the Olympics; meeting new people and getting new experiences at his age (58); and, yes, the benefit this could bring to recruiting. But he adds:.
This reason is extremely remote as we have already finished recruiting in 2012 and almost done for 2011. ... I just purchased all five levels of RosettaStone. Also, at my age learning a new language is something special.
Pretty cool that he's taking on learning Spanish and seems to be pretty serious about it. (And a nice little plug there, too.) Good for Pitino to do this, which wasn't really necessary, but as you can see is getting him some added exposure. He's trying to recraft an image and be as transparent as possible in all things with his profession. Smart move.
Photo: Getty Images