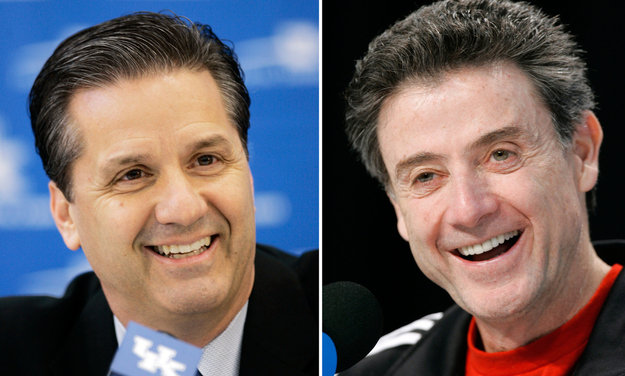 Posted by Matt Jones

If your only exposure to college basketball is limited to tuning in around late February and sampling whatever dish ESPN is serving up to get you ready for the end of college basketball season, then this column is for you. Contrary to what the good folks at the Worldwide Leader and the national columnists who only dip their toe into our fair sport around March Madness may want you to believe, the most intense rivalry in college basketball is not the one that takes place twice a year on Tobacco Road. No, for sheer emotion, passion and viciousness, the true peak of college basketball rivalry takes place on the I-64 corridor every season in late December. Kentucky vs. Louisville is the most heated rivalry in college basketball , and nothing else is close.
While I can already hear the outrage emitted from the Duke and UNC fanbases who believe all basketball worth seeing is played either within their 15-501 highway or at the very least, down the road in Greensboro, notice I said "most intense" and not "best". I have attended seven Duke-UNC games over the years and am a graduate of one of the institutions. When it comes to sheer talent and relevance on a national scale, Duke-UNC has been the unparalleled king for the past 25 years. But talent and television coverage does not intensity make. Kentucky-Louisville is not the most intense rivalry in the land because the game usually involves the two best programs, but rather, like Alabama-Auburn, UK-UL is the most intense rivalry because it simply matters more to all involved. A special concoction of factors combine to create an environment between the Wildcats and Cardinals that the overhyped Cameron Crazies and wine and cheese crowd of Chapel Hill could never hope to replicate:
HISTORY --- Unlike UNC and Duke, who are forced by conference affiliation to play each other twice every season, the vitriol created by UK-UL is actually a relatively recent creation. Until 1983, the schools never had an annual battle, as UK believed in its own superiority to such a degree that it saw no need to downgrade itself to schedule a game with the program Coach Eddie Sutton later called "Little Brother." Even as Louisville rose in the 1970s under Denny Crum, culminating in a NCAA title in 1980, UK cruised along whistling obliviously as Cardinal fans demanded a matchup. Attempts by the NCAA to pair the two teams always fell a bit short, most famously in 1975, when one last John Wooden run kept the two programs from meeting for a National Championship. The more Cardinal fans howled, the more UK cackled that they would not stoop to UL's level.
But then came 1983 and the battle known as "The Dream Game." The NCAA placed the two teams in the same Regional in Knoxville, Tennessee and fate finally put the programs on the same court. A battle that led the state's governor John Y Brown to wear a half-red and half-blue sports coat (a sell out move if there ever was one), saw Louisville win the initial battle between the two programs and be granted ammunition of supposed superiority that it could hold over UK fans in perpetuity. That was unacceptable to the UK brass, and the rivalry was on, likely never again to be extinguished. The same intense hatred and feeling of moral superiority that prevented the game from beginning has permeated its existence ever since.

FAN HATRED --- And with that historical backdrop, the hatred between UK and UL fans has yet to diminish over the last 27 years. To each fan base, the other group represents all that is bad about college basketball, and in extension, the country as a whole. Kentucky fans believe UL represents the big city, full of brash, obnoxious fans who would be better placed in Southern Indiana, rather than in the great Commonwealth of Kentucky. While Louisville sees UK as a fan base full of country hicks, whose country mannerisms embarrass the UL faithful when they travel to other states and say they are from Kentucky. Being a fan of UL or UK is not simply about representing a program, it's about representing a way of life, and when you see the 18-22 year olds on the court playing a game, they are actually standing up for values far greater than they could ever know.
This is all of course nonsense. Those of you from the other 49 unfortunate states would look at all of us in Kentucky and see little difference, but to those of us who call Kentucky home, these distinctions matter. The hatred is most intense in the city of Louisville, which has become ground zero for UK-UL passion. With estimates of the number of UK fans in the city ranging from 40-50 percent, all of us are forced to interact with members of the other tribe and on a Rivalry week like this one, it is all we can do to maintain our cool. Louisville fans do not like their city infested with all these Blue low-class heathens, while Kentucky fans want their general superiority and overall larger fan base accepted in the Commonwealth's largest city. It isn't so much about winning, because we all know our team and fans are better, but it is about not losing, so we don't have to listen to that obnoxious co-worker, neighbor or radio host crowing about it for the next 365 days.

PITINO/CALIPARI --- While the fans have always had the passion necessary to make the rivalry intense, what has taken the UK-UL game to a new level these last two years was the introduction of two Northeastern Italians, with a dislike for each other that rivals that of any fan. Rick Pitino was already the epitome of evil to the Big Blue Nation, after committing the mortal sin of leaving UK, bombing with the Boston Celtics and then having the audacity to return to the state and coach the Wildcats' arch-rivals. The Benedict Arnold quality is almost unmatched in modern sports. Would Coach K join the Tarheels? Joe Torre the Red Sox? Bear Bryant take his hat to Auburn? Its unthinkable, but Pitino went to Louisville, showcasing to UK fans that he was never really one of them anyway.
But even with Cat fans hating Pitino, the Cold War didn't really begin until John Calipari found his way to Lexington. The slick former Memphis Coach gave Card fans their perfect UK foil. For a program that has a history of NCAA violations, hiring the modern Coach most associated with walking the NCAA tightrope was exactly what UL fans needed for ammunition. The cheating school hires the cheating Coach, allowing the Card faithful to crow that while they do it the "right way", there is a rogue problem in Lexington.
The best part is that these two coaches seem to be obsessed with each other as much as the fans. John Calipari openly takes slight shots at Pitino, making comments on his weak non-conference scheduling and referring to the "school down the road." Pitino for his part can barely hide his contempt for Calipari, deflecting all questions about him in a "please don't bother me with THAT guy" type of manner. Each has given the other fan base something to focus upon, whether it is Calipari and his vacated Final Four trips or Pitino and his infamous night at Porcinis with Karen Sypher. For every "Derrick Rose" chant, a "15 seconds" one can follow. And while neither will come from the Coaches themselves, they both probably secretly love every one.
Thus with all of those factors in play, how can the games not be legendary ? Over the years, stars have been born in the UK-UL game, whose names live forever in the state. Every UK fan knows about Rex Chapman's historic Freshman debut to the rivalry in 1986, Cedric Jenkins's tip-in for the win in 1987 and Patrick Sparks doing his shuffle and drawing a foul to help pull it out in Freedom Hall in 2004. And UL fans can point to the magic of the Dream Game, Samaki Walker's Triple-Double or the three from deep that Edgar Sosa drained before the buzzer in 2008. Legends are made in one afternoon and individuals who otherwise had forgettable careers, like Marvin Stone and Lukask Obrzut are known as Cat and Card killers forever.

The opening line for the game has Louisville favored by two. And if one looks at the game, a case can be made for either team coming out on top. But ultimately, the final score is only a small part of what will be the most intense game in college basketball. In Kentucky, we have little to focus on but college athletics. There are no Carolina Panthers, Carolina Hurricanes, Charlotte Bobcats or NASCAR headquarters to focus our energy. Louisville is the largest metropolitan area in America without a pro sports franchise and the energy of the population is focused squarely on college kids playing basketball. When UK-UL tipoff Friday at noon, the entire state will be holding its breath and focused in a way unrivaled anywhere except in Alabama the day of the Iron Bowl. Duke and North Carolina are nice and their games are made-for-television theater. But for unbridled passion and intensity, there is no place in college basketball that can rival gameday when Kentucky plays Louisville .
Photo: AP