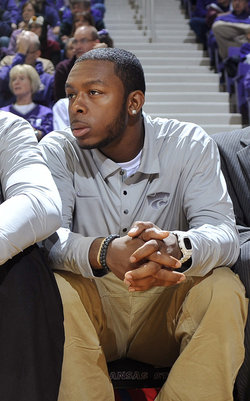 Posted by Matt Norlander
How is a college basketball player's three-game suspension over discounted clothing comparable to an NFL player's multi-year jail sentence for killing dogs?
It's not, but Jacob Pullen was
trying to find an analogy that worked.

In his first meeting (since his suspension was handed down) with the press a few days ago, Pullen addressed
his careless mistake,
owned it completely and shared some personal information, like when he promised his mom he'd never miss another basketball game over an elibigility problem after he was forced to sit when he was a freshman in high school.
But the money quote was his self-catalyzed comparison to Vick, who remains to be a figure athletes from all arenas continue to admire. In that sense, this quote from the K-State guard isn't surprising:
"I kind of feel like Michael Vick in some ways. I feel like I've got something to prove again. I feel like people doubt what I've done and feel like that I shouldn't be in a place that I've been in," Pullen said. "I feel like now is a reason for me to show them I worked hard for everything that's came my way and everything that this team has gotten. It really makes you hungry again, and I feel like God did it for a reason."
Can you empathize with where Pullen's coming from? I can. The 21-year-old has become a player of lore in Manhattan, Kansas, in the past year and a half. There's a lot of weight on those shoulders that so often shake off defenders and ball screens all night long.
From most accounts, Pullen's a smart guy (which made the clothing fiasco all the more befuddling), and his comments, re: Vick, could be taken out of context pretty easily. I won't be doing that, but I will say bringing up Michael Vick's name when waxing about redemption stories still remains a sensitive issue.
And Vick has had to overcome so much more than Pullen. But athletes need to self-motivate. I get that. To wit:
"It's good to be back on the bad side," Pullen said. "Now it's just giving me a reason to go out and beat everybody."
As for the rest of the eight-minute press conference, Pullen said he found out about his suspension an hour before tip-off, and that "the NCAA sees everything."
Photo: Getty Images