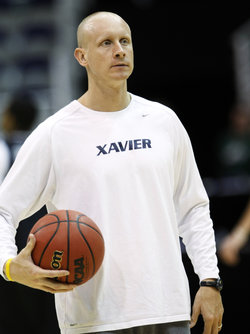 Posted by Matt Norlander
There was one time Chris Mack was a part of a team that was down to nine scholarship players. It was during his sophomore year of college at Evansville.
But as a coach? This has been hellish, unprecedented and daunting, to say the least.
"We just have to deal with the circumstances at hand," Mack said. "As I told our guys, no one's going to feel sorry."
Well, I will. That OK, coach?
"A lot of people are making a bigger issue out of it than it needs to be," he said.
Well ... all right. Still, let's reset just all that's gone wrong with this team in the past three months, and I won't even include the team's
travel issues
in this timeline. It's pretty clear 2011 couldn't get here fast enough.
Oct. 24:
Brad Redford, one of the team's most vital long-distance shooters,
tears his ACL
and is done for the season.
Oct. 25:
The next day, Xavier is informed Justin Martin, a player immediately expected to help replace Redford's production,
is ineligible.
That ineligibility will last the entire season. Why? He is ruled a "partial qualifier," meaning he can be on scholarship and practice, but can't suit up for games. Paired with the Redford injury, this puts Xavier down to 10 scholarship players before it's played a game.
Nov. 2:
The hits keep coming. Literally. Senior forward Jamel McLean is ruled out for four to six weeks after he
cracks an orbital socket around his eye in an exhibition game.
McLean makes it sooner than expected, however.
Nov. 6:
Bellarmine, a D-II school,
beats the Musketeers in an exhibition.
Dec. 1:
Xavier takes its first really bad loss of the season,
losing by 11
to sub-.500 Miami University.

Dec. 28:
X can't get out of 2010 without any more harm; Jay Canty, another player who was needed to replace Redford, is ruled out four to six weeks with
a stress fracture in his right foot.
Dec. 31:
Twenty-ten ends on a particularly sour note when wobbly Florida beats X to
end the 'Eers' 30-game win streak at the Cintas Center.
Through all of this,
Mack never made an excuse
or allowed his team to.
"We are a different team than maybe when the ship set sail in October, but it doesn't mean we can't be a successful team," the Xavier coach told me over the phone last week. "Kids are going to have to play more minutes. We have to play with higher expectations."
Xavier, once considered to be at the top of the Atlantic 10 — along with Temple — is now an 8-4 team that's prepping for its passionate intra-city battle against undefeated Cincinnati later this week before conference play begins Sunday at Rhode Island.
Because of all the injuries, Mack's only been effectively playing seven guys, and it's clear the Musketeers will need to lean on them as much as possible to tread water and hope big wins come soon. Jordan Latham, a freshman, has improved, according to Mack. (He's yet to earn significant playing minutes, it should be noted.)
Amid the bumpy ride, Mack's been open and honest with this group about the challenges and what can still be achieved.
"As a coach, you're constantly assessing on where your team's at. You're open and honest with them. The injuries are no different in that regard," he said. "They understand their role may change a little bit. The expectation you have from them may change a little bit."
That includes something that's often overlooked: egos, and how they're affected by playing time, substitutions, etc.
"We now have to make sure we always have experience on the floor," Mack said. "We've had to watch our substitution patterns. We have to have experience on the defensive end. We're dealing with a limited deck, so we have to be sure of who's out there."
Perspective is something the
often-humorous coach
has gone back to with himself, his coaches and his players. The depleted roster is the go-to topic after every game. But the team is doing better, resume-wise, than about 85 percent of other teams in college basketball. And plenty of opportunities remain.
"It's going to make us tougher. Hopefully it'll harden our mental toughness," Mack said. "I told my guys, 'If this is the worst thing that happens to you in your life, you're going to have a great life.'"
Photo: AP