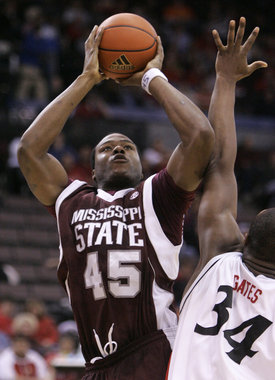 Posted by Matt Norlander
News just came down:
Renardo Sidney will return to the court to play for Mississippi State.
His first game back will be the SEC opener against Alabama Saturday.
His teammate, junior co-captain Elgin Bailey (right), will transfer from the program.
If you need to be reminded why these two have sat for the past week and a half, it's because they decided a basketball arena would be an
OK place to go fisticuffs on one and other.
Without the two (both capable of being starters), the Bulldogs dropped to 8-6 after losing to Hawaii and Saint Mary's in the wake of the brouhaha. Here's Rick Stansbury's official response, per the school's press release.
"We wish him the best as he moves on. Elgin has had to deal with some very tough injuries, but he's worked very hard to get to where he is now. Wherever he ends up, I hope he's able to have a lot of success. As for this team, it's time to move on and learn from these mistakes. Hopefully, by sending Sid and Elgin home following the incident, a strong message was sent that this type of behavior is unacceptable."
What message is Sidney receiving? That multiple chances for bad behavior,
a defiant attitude
and fighting with teammates is the normal, real-world end result for those actions? Sidney's pure basketball ability is the only thing that's kept him on a BCS conference team, a team that's a mess and probably had its season go down the drain already.
Remember, if it wasn't for his attitude and reported lazy work ethic, Sidney would've already tried to give the NBA a shot.
You know this drill. The one with more talent gets more chances. Stansbury had waited SO long to get Sidney on the court. So, if there was reasonable doubt, he wasn't going to kick the kid off the team. With enough evidenced piled up against Bailey, a separation needed to happen.
Bailey (a captain, remember) was more expendable than Sidney, which tells us something about the Bulldogs' leadership. But I keep going back to: Even if Bailey was completley in the wrong here ... why didn't Sidney just walk away? No, you saw the video: He was just as eager to throw down as Bailey was. Instigator be damned, both parties fouled up.
But one gets to stay. Here are his words:
"I'm very embarrassed about what happened," Sidney said in the statement. "I know how bad it looked on TV and the embarrassment it caused for everyone associated with Mississippi State. I've had a lot of time to think about it, and I will learn from this mistake, move forward and become a better man."
Becoming a man is the step that needs to be taken first. Men don't let their emotions take over and start swinging knuckles when families and impressionable children are around.
The double-edged sword in all this: Keeping Sidney around could do as much to help Stansbury's job status as it would hurt it.
Photo: AP