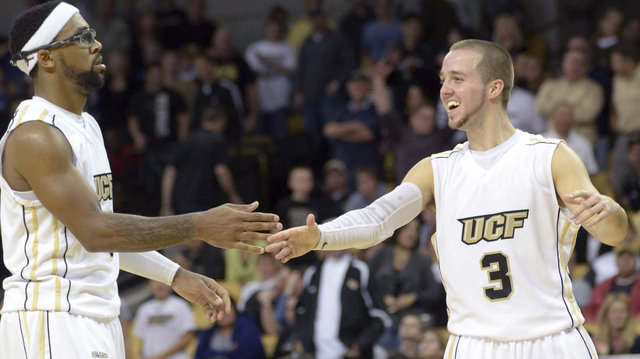 Posted by Matt Norlander
If you can't give respect to a team that makes it to the new year without a loss, then perhaps it's time you stop yelling at those kids on your lawn and start paying attention to college basketball.
The particular attention I'm alluding to is for Central Florida, which is 13-0 and ranked No. 19 in the country.
Some surprises this year, no doubt, but
nobody
had this one. Not a one. Nobody had this team with only one or two losses, either.
Depending on two outcomes tomorrow night — UCF's game against Marshall and Memphis' game against Tennessee — we could have a definitive best team in Conference USA.
And it won't be the Tigers who, with a loss, will drop to a plenty-respectable 11-3.
What a nice thing for Conference USA this can be. You may recall last season, when
UTEP only had one loss in conference
and finally gave C-USA a different look after the Tigers had demanded everyone else's rent since
five teams jettisoned
for the Big East in 2005.
Now it's Central Florida that's upstaging Memphis, which is in Year No. 2 of the post-John Calipari era. Why have the Knights been so good so far? It's more than a weak schedule; credit UCF for beating then-ranked Florida, Miami and UMass away from home, even if the rest of the slate is cupcake-sweet. The primary reason UCF hasn't lost yet is because it's done something you can't fake — halt teams' shooting ability from all over the floor. No team is better at
effective field goal percentage defense
than the Knights, which allow opponents to make
just 39.1 percent
of their shots.
Barring a barrage of turnovers and miserable shooting on your end, you're beating everyone lined up before you if you prevent them from eclipsing 40 percent in effective field goal percentage.
Other reasons, ones you may know, like Marcus Jordan, the one who has legitimate talent and gotten a lot of the attention, has been helped tremendously by Keith Clanton, who is giving opposing teams more headaches than Baby Jordan. This young team also stays fresh by having one of the deeper benches in basketball.
Conference USA isn't that deep (again), but it could have three Tournament-worthy teams in UCF, Memphis and Southern Miss. So far, no one's looked as fluid or tough as the Knights, who seem to still have a tough opponent to overcome in the next few weeks: the doubters.
Photo: AP