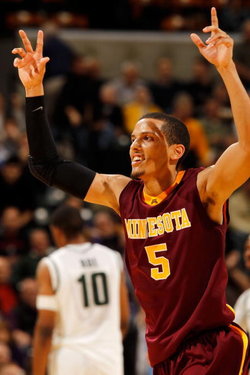 Posted by Matt Norlander
Devoe a Go' no mo'.
It's not yet official, but if you're to believe mom's word, then there's no going back.
Myron P. Medcalf, the
Star Tribune
go-to guy for all things Gophers hoops, has
the scoop
this morning. He received an e-mail from Joseph's mother, Connie, in the early hours Tuesday (like, almost-at-4-a.m. early hours), wherein she confirmed her son's departure from Tubby Smith's program.
"The decision to transfer, it's a difficult decision," she said. "It's not a good situation. … It's not something that's taken lightly and it's a difficult thing to do. Having said that, it's something that Devoe has [decided to do]."
Joseph has been mulling this decision for some time. The 71-62 loss at Michigan State on New Year's Eve is apparently what sealed the deal.
She said Devoe Joseph called Tubby Smith before the team's next practice and informed him of his decision to leave the program. Connie Joseph said her son skipped practice over the weekend because "once you've made this difficult decision, the best thing is just to move forward." She said her son isn't suspended, as some outlets reported, but has decided to leave the team. "No there's [no turning back]," she said Tuesday. "I'm going with him [Tuesday] morning to pick up his release papers. He wishes the team well. It's a tough thing."
Where Joseph goes, nobody knows, but the junior will have plenty of suitors. He averaged 11.3 points, 3.5 assists and 2.3 rebounds. Not bad for an undersized shooting guard. Joseph also shot nearly 40 percent from 3-point range this season.
Minnesota's now reeling a bit. This is the second straight year Tubby Smith has had a player transfer;
the troubled Royce White
played a game of tug-of-war with Minny last season. Plus, freshman big man Mo Walker, who was injured Dec. 23 against South Dakota State, is out for the year with a torn-apart knee. Must-have point guard Al Nolen is back from injury now, thankfully, but a promising season has started to twist in the wind here.
The Gophers (11-3) started 11-1 before dropping their first two in conference play, and by the way, this news is breaking while the team is mentally prepping for its home game against Indiana in seven hours.
Photo: Getty Images