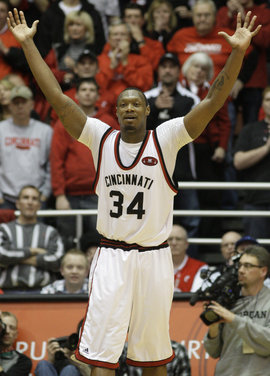 Posted by Matt Jones

CINCINNATI --- Going into Thursday's Crosstown Shootout in Cincinnati , I freely admit that I was skeptical about this edition of Mick Cronin's team.

After watching the last three seasons and knowing that with the Coach's seat decidedly warm, I assumed that the decision to play a weak non-conference schedule was driven by self-preservation and was a flashing warning signal to all of college basketball that when the meat of the season arrived, the true colors of the nation's least-credentialed undefeated team would become obvious.

Not all 14-0 records are created equal and the one belonging to Cincinnati struck me as being decidedly fraudulent.
But then I watched the Bearcats' 66-46 dismantling of Xavier up close and personal and my initial skepticism seemed misplaced. At least for one night, Cincinnati looked to have all the makings of a contender in the Big East and worthy of its recent placement in the Top 25. I saw an impressive big man in Yancy Gates, who used the rivalry game to put forth potentially his best game as a Bearcat, scoring 22 points and grabbing 14 rebounds in a performance that recalled the huge potential he teased during his high school playing days. I saw a point guard in Cashmere Wright that makes smart decisions on the floor, limits turnovers and scores efficiently by drawing contact and then going a perfect 8-8 from the free throw line. And I saw a deep team that plays great defense and has the rare trait of experienced leadership, with four Seniors who each play at least ten minutes a game. Combine a rabid crowd making enough noise to cause headaches for opponents who dare to come into their arena and face their interesting array of celebrities (both Nick Lachey and Pete Rose sat courtside), and the UC program seems potentially ready for primetime.
Notice I said "potentially." There are still a lot of questions that remain about Cincinnati, many of which will be answered over the next two weeks when four of their next five games are against teams ranked in the Top 20. Most importantly however, it remains to be seen if the Bearcats have enough talented offensive threats to be able to score in the half court against the top Big East defenses. While UC dominated Xavier defensively, scoring was still a problem and each possession seemed to be a taxing affair as the club tried to find a way to will the ball into the basket, either by a drive designed to draw a foul, an offensive rebound or a Yancy Gates fall-away prayer that happens to fall. It isn't clear that there is enough scoring on the admittedly deep bench to help the Bearcats get key baskets against teams that put up a tougher fight than the Musketeers did on Thursday night.
Mick Cronin shares this concern but doesn't agree with the skepticism that comes with it. To him, Cincinnati has shown enough already to be respected and those that criticize his scheduling don't understand the situation the program was in.

Cronin said, "You can only beat people so bad. We didn't get invited to Coaches vs Cancer, the Preseason NIT or Maui. I am still waiting on the invite to all that stuff. We would have been in one of those, but nobody invited us. I tried to play Duke in the Meadowlands. They pulled out on us. TV pulled out on us and put Butler in. You can only play the games you can find."
Even if the Bearcats were unable to find those games, they are about to find them as the heart of Big East play arrives. But there is a firm feeling among the members of the team that this year's group is up to the task. Cashmere Wright summarized the confidence all those around the Bearcat program hold saying, "We have a legit nine or 10 players that can play at any time. If we keep playing as a team, we can beat anybody and I don't think we will lose too many games."
Whether they lose too many games or not, Cincinnati will surely lose at least one game and it may very well come this Sunday when they go to Villanova. Mick Cronin knows that his critics will use that game to dismiss his team, but he doesn't care.

"If we get beat Sunday, we are bad team right," Cronin said. "I am sure they will say that. But that's good, because I will just use that to get us ready for the next game on Wednesday."
After Thursday's win over Xavier, it is clear that Cincinnati wants to be relevant on the national stage once again. In its 50th anniversary season of the 1961 National Championship Team , the Bearcats are drawing attention from the college basketball world that they haven't seen (at least for good reasons) at any point in the Mick Cronin era. Many will assume, as I did, that this attention is just a function of a schedule that has been stacked with victories over the likes of Savannah State, Utah Valley, IPFW and Georgia Southern. But as Cincinnati showed on Thursday night, weak schedule or not, it has nearly all the ingredients to be a team that matters and is relevant nationally once again. With the crowd that had all but disappeared over the last three seasons back and rowdy, the atmosphere and play suggested that the Bearcats can once again matter. It is now up to Cronin and his team over the next three weeks to prove that nights like this are not the singular exception, but rather have once again become the norm.
Photo: AP