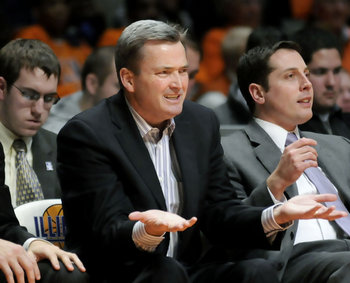 Posted by Matt Norlander
Northwestern Men's Basketball, of Evanston, Ill., had its NCAA tournament Chances
die Jan. 6 in Champaign, Ill.
They were three months old.
Born in Evanston on Oct. 15, 2010 (the first day practices are allowed to be held), by the hopes and prayers of Wildcats fans locally and nationally, the men's basketball team — which is notorious for being the
only major-conference school
to not play in an NCAA tournament game — had
yet more people thinking
this was the year. Unfortunately, this baby was doomed for death from the start.
Still, even in the wake of Kevin Coble — the team's former best player —
deciding to depart,
the
early signs were positive.
Coble, who left in the offseason after he failed to get along with Northwestern head coach Bill Carmody (right), jettisoning the program only seemed to make this group stronger.
The Wildcats started their year with an 8-0 record, standing without a flaw and healthy as a horse until Dec. 21. But in recent weeks, rapid,
worrisome signs
of weakness, sickness and the inability to mature led to the Chances' demise. They have now passed on to that big bracket in the sky, where they are still being forced to wait outside the gates, most likely.
A devoted Big Ten member, Northwestern has shown only a few patterns of this behavior before. Owning a survival rate that
makes newborn sea tortoises
feel proud, the Chances were looking to dodge hereditary traits in its family that make your father's drinking problem looking fashionable.
But the failure to start strong in the conference — Northwestern is currently 0-3 — will likely mean another year is wasted and another funeral must be held. When you toss in
the loss to St. John's
— the only non-conference team with a respectable reputation on
Northwestern's schedule
— you can see why many are mourning,
but few are surprised.
Sometimes, you can't prevent the inevitable; you can't stop someone from themselves, sad as it may be.
Survivors include Michigan State University, of East Lansing, Mich.; the University of Illinois, of Champaign; Purdue University, of West Lafayette, Ind.; The Ohio State University, of Columbus; the University of Wisconsin, of Madison; the University of Minnesota, of St. Paul and Minneapolis; and 17 grandchildren, plus one really insufferable ex-wife.
The Chances were preceded by the postseason NCAA tournament hopes of 2010, 2009, 1983 and 1946. Services will be held at many locations for the remainder of the year, including the cities listed above, as well as Bloomington, Ind.; Ann Arbor, Mich.; Iowa City, Iowa; and Happy Valley, Pa.
In lieu of flowers, Northwestern University asks you please deftly and inconspicuously send contributions to prospective Wildcats players who are currently playing high school basketball in the greater Chicago area.
The athletic department is in charge of arrangements and changes moving forward.
Photo: AP