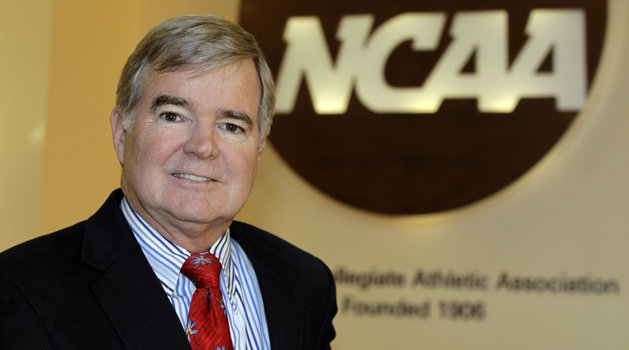 Posted by Matt Jones

It seemed as if we had heard the last of Enes Kanter , at least until this spring's NBA Draft, when the NCAA affirmed its original decision ruling him permanently ineligible on Friday. For Kanter and Kentucky, it was the last ditch effort to see the Turkish big man on the court in a blue uniform and for the media that has been following this story for over eight months, it was a welcome end to the seemingly never-ending saga.
Or at least so we thought. Yesterday our own Seth Davis spoke with NCAA president Mark Emmert about Enes Kanter and relayed some of his thoughts at halftime of the Kansas-Michigan game. According to Davis, Emmert said that the Kanter decision should not have surprised most college basketball fans, as Enes was a professional due to the money he received from a professional club in Europe. Fair enough. While it has been noted that such a distinction is not necessarily to be found in an NCAA rule book , it at least works logically, even if it violates some sense of ex post facto fairness.
But then, as if to justify the decision further, Emmert went on to say that part of the reason no one should be surprised about the Kanter verdict is that very few teams recruited Kanter in the first place. Emmert's assumption of course is that very few teams took the time to look into recruiting the talented big man because they all assumed he would not be eligible to play in the United States. While one who followed Kanter's recruitment might disagree with that conclusion (plenty of teams inquired into his services), it also leaves out one salient point. One team that undoubtedly recruited Kanter and went so far as to take a commitment from him was Washington, coincidentally the university where Emmert was president at the time.
It seems quite an odd statement for Emmert to make and one that would seem to require some explanation. If Kanter was so certain to have been ineligible at the NCAA level, why would Emmert allow his university's basketball program to recruit him. Surely Emmert knows that Washington took the commitment , so is he now suggesting that the school itself backed away from Kanter later in the process? If so, does that conclusion vibe with coach Lorenzo Romar's, who has in the past expressed disappointment at losing Kanter to Kentucky after his decommitment, recollection of the matter? And even more importantly, if other programs didn't recruit Kanter because of eligibility, why did Washington initially? Did it not look into those concerns initially or did the NCAA president's former school simply not share them? Or maybe Emmert will simply say that as president of Washington, he didn't know anything about the recruitment of high-profile athletes for his university. So much for presidential oversight.
By making the rather bizarre statement to Davis , Emmert has opened up a new set of questions that likely need to be answered. The president probably could have simply said that Kanter was a professional and as such, the NCAA ruled him ineligible. But in his manifest desire to make the case seem more simplistic than it is, he has raised the question of what role his former university may have had in the Kanter case and how his time at that university fits in with the idea that schools stayed away from the apparent professional.
In recent cases, the NCAA seems to have taken the approach that it should explain its decisions more thoroughly and respond to criticism it receives after the judgments. However in case after case, these "explanations" seems to raise more questions than existed prior to them. While I generally applaud an organization that says more rather than less, it seems not to work for the NCAA. Maybe the organization should heed the famous words of Mark Twain and cease to talk, as with each explanation, it is slowly removing any doubt of their consistently inconsistent decision-making process.
Photo: AP