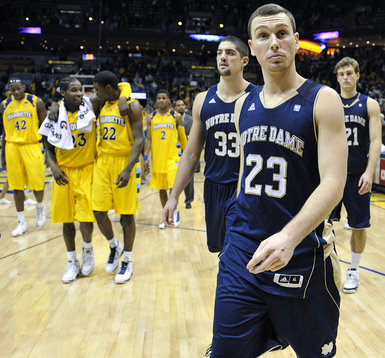 Posted by Matt Norlander
Last night was mostly about the end of college football's season, but we did have Notre Dame-Marquette to watch before it was decided who would take all the Tostitos.
And Marquette won.
Easily.
I don't fault you for clicking away long before it went final, or perhaps not even watching at all. But know this: a huge win for the Golden Eagles, getting the team to 3-1 in the Big East by way of the 79-57 outcome, the third-largest margin of victory in the long rivalry between these two programs.
It's not shaping up, no, it's already shaped up to be like this in the conference. Marquette, a team most would consider a good-but-middle-of-the-pack group is out in front in the Big East race. There's value to that. That's how life's lived there. Some teams with more impressive non-con resumes will find themselves behind schools that manage to grind out a double-digit win total this year.
Golden Eagles fans know how many heartbreaking, last-minute losses this team has endured in the past two years. Blowout wins over highly ranked clubs like the Irish are akin to finding Tostitos in the desert. (OK, I'm done with the Tostitos talk.)
(No. I'm not.)
Dwight Buycks'
five 3-pointers went a long way to dropping Notre Dame to 3-2. As a team, Marquette was 12 for 17 from deep. It can't keep that up, but it's got to be comforting to know the possibility for another unleashing is there. What's funny -- Marquette's one of the
20 best two-point shooting teams
in the country.
Jimmy Butler, Jae Crowder, Darius Johnson-Odom: guys who you may not know but collectively make Marquette one of the fun teams to watch in all the sport. Perhaps it's because they keep you guessing. Rare is the MU game that's not enthralling in some sort of way.
Which is why last night's laugher was all the more surprising, yet welcome, in the state of Wisconsin. For the record, the Irish's three losses have all come by double digits. Just something to store away ... for now.
But Marquette, which is 12-5 and doesn't have a "bad" loss in the books, got its best win of the year last night. We've got a long way to go, but that type of decisive W could be what cements MU into the Tournament field come late February, when other teams with a bevy of losses can't claim a win as good as this one.
Photo: AP