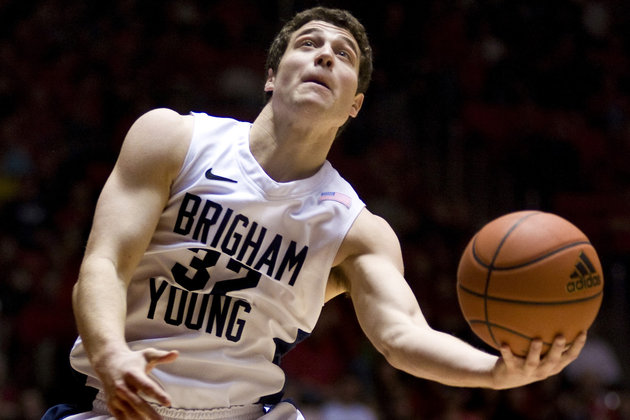 Posted by MATT JONES

Jimmer had 47 tonight, eclipsed the 2,000-point mark for his career and, chances are, virtually none of you saw it. I have already expressed my Rick Majerus-sized man-crush on Jimmer Fredette on this blog before, but I am not sure that people are truly getting the message.

Because the Mountain West has a conference television contract that seemingly only puts its games on The Food Network, the Mountain Friends and Family Network and C-Span 3, finding a BYU game on television is only slightly easier than finding an admitted Rafael Palmeiro Hall of Fame voter. The league's games are not on regular college basketball channels and thus viewers simply forget they exist.
But you as a college basketball fan must go the extra mile to watch Jimmer play . Take tonight's effort, in which Fredette scored 47 points on the road at rival Utah, and put up a dazzling array of moves that had some excitable folks on Twitter recalling the days of a guy named Maravich. Jimmer scores so many different ways and so easily, that at times you lose track of what you are watching. He can beat you with the three, take you off the dribble, catch and release quickly or simply drop an assist that leaves you shaking your heard. On Tuesday, he scored in bunches, including a 32 point barrage in the first half that may end up being the single most impressive individual half of basketball we will see this year.
Unfortunately, I know you didn't see it. And that hurts me. Because I want you to get the same joy out of Jimmer that I do and chances are that unless you live in Utah or have no spouse/kids/girlfriend prospect/library card, you haven't made the time to do it yet . So please take this as a warning. Watch a Jimmer game ASAP. The amount of times you will get to see him get you out of your seat in college are quickly diminishing. By March, everyone will know Jimmer and discovering him will be cliché. Get out in front of the masses, upgrade your cable package and buy whatever version of the Home Shopping channel is showing his next game. I want us to share in this glory together and it is now your move.
Photo: US PRESSWIRE