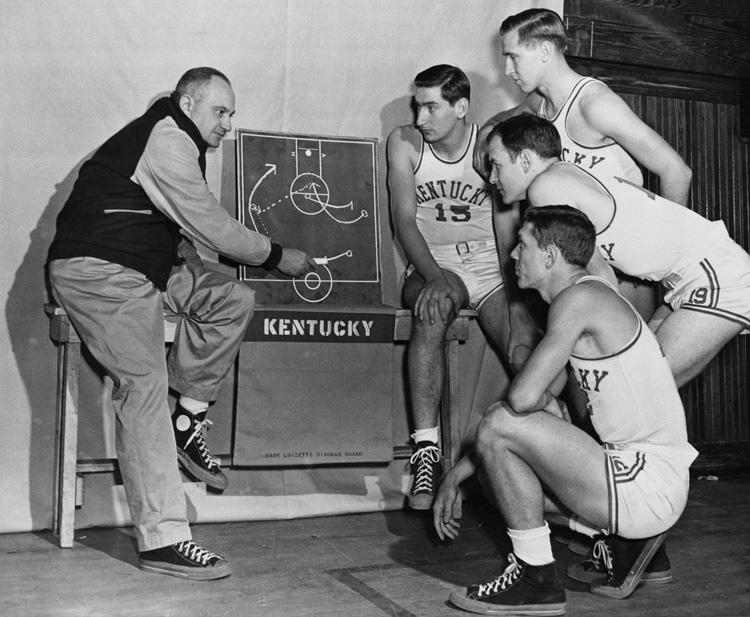 Posted by Matt Norlander
Hey, Florida, get with the program. // In completely different news, is anyone else nearly as passionate about font choice as me and these guys? // Still beaming over this. // By the way, that photo is legendary Kentucky coach Adolph Rupp doing his thing back in the '50s. We have it courtesy of the time-wasting, spectacular Twitter feed that is the Sports Illustrated Vault's ...
• You want some bracketology? We can help that hankering.
• Luke Winn's mid-season Style Archive! VICTORY!!!
• The Orange head into Manhattan tonight to play St. John's. It is no longer Syracuse's Garden.
• In light of Jimmer's 47-point performance, this was either terrific or terrible timing for this story, depending on your point of view.
• Some great perspective on UK's Terrence Jones here.
• And a good gamer from Wes Rucker on Florida-Tennessee. Definitely worth your time.
• Despite being nearly 3,000 miles from it all, I'm still unsettled by the Arizona massacre, but stories like this strangely help.
• Percy Allen, as expected, has done good work up in Seattle with all this Washington drama as of late.
• Writer Diamond Leung has found his stroke this season.
• One blogger picked up on a lost tidbit: Jim Boeheim predicted the UConn women's first loss all the way back in October.
• Will Austin Johnson have one of those nice careers in college that goes largely overlooked?
• We don't have to wait until February for this: a love letter to Oakland's Keith Benson.
• Fred Hoiberg already making quiet waves at Iowa State.
• Yep, #alltheTostitos now has a website.
And in case you missed how Jimmer Fredette ended his insane first half: