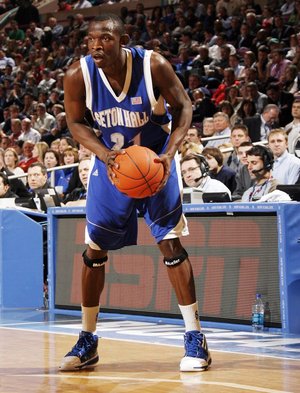 Posted by Eric Angevine

We all know
that guy who hangs out in college way too long
, getting his second degree or filing for twelve minor concentrations like an academic version of Brooks from
The Shawshank Redemption
. Once you get inside that warm cocoon of institutional calm, you just don't want to leave.
Seton Hall guard Jeremy Hazell was starting to seem like that guy. Already 25 years old, Hazell seemed prepared to come back again next season after a series of personal setbacks assailed him. It was bad enough when he injured his left wrist in November, but while he was coming back from that injury, he was shot in the right armpit while on Christmas break in his hometown of Harlem, NY. Nobody would have blamed him if he chose to take a redshirt and come back to help Seton Hall win games next season.
But he didn't. Hazell visited the doctor on Monday - that much we knew right away. But he and coach Kevin Willard would only say that he was cleared to play, not whether he planned to actually do so. We started to suspect something was up when he joined the team on a road trip to Chicago, but still thought that the prospect of joining this season's tough sledding might not appeal to the senior.
If you're like me, your estimation of Hazell shot way, way up yesterday afternoon when you heard that he would, indeed, play at DePaul. It climbed a couple more notches when the news came down that he not only played, but scored 23 points after coming off the bench in the fourth minute of the first half.
Just to recap, Hazell came back from his wrist injury in the absolute minimum time his doctor would allow. He was also shot -- SHOT -- by a gunman just eighteen days ago, and he came back playing out-of-his-mind, not tentative or ginger on the ol' wings at all. As the Associated Press reported, "Hazell, a first-team preseason All-Big East selection, had an alley-oop dunk to make it 77-60 with 2:17 left. He scored 15 points in the second half.
Hazell said he never doubted that he would return to the court
even after being shot."
I think I'd be a
DNP - quivering pile of goo
for the rest of the season if I had been shot by a robber, but it wasn't nothin' but a thang to Hazell. That's pretty tough, both mentally and physically.
It also shows loyalty to his teammates, who will have absolutely no excuses for slacking off in practice any more this season. Turf toe? Man up. Broken ribs? Get in the gym, jackwagon. Hazell here was SHOT a couple of weeks ago, and do you hear him whining? No, you don't.
All kidding aside, this is huge for the Pirates. Hazell's presence on the court should inspire his teammates to, in essence, 'win one for the Gipper'. He's got
Willis Reed
cred now. Seton Hall is now a respectable enough 2-3 in the Big East, just behind West Virginia and UConn, which are both 2-2. Even Hazell probably can't help them win at Pitt on Saturday, but next week's home games against slumping Georgetown and rebuilding Rutgers are winnable.
When you know your team has the toughest player on the floor, anything starts to seem possible.
Photo: US PRESSWIRE