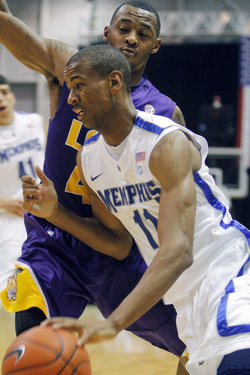 Posted by Matt Norlander
For the second time this season, second-year coach Josh Pastner has shown he's not afraid to run the Memphis men's basketball program by his exact, no-tolerance rules.
At least that's how it looks from the outside.
Who knows how long it's taking for Pastner to come to these domineering decisions privately — what series of actions behind closed doors are piling up — but at the very least the Memphis coach isn't letting things wiggle from his grip from a public perspective.
First it was Jelan Kendrick
who earned a suspension under Pastner's rule in November. He eventually
left the program
and landed at Mississippi last month. And now, tonight, it's junior Wesley Witherspoon who's being put on ice for
an indefinite amount of time.
This coming one night after Memphis lost for the second straight season at
mediocre Southern Methodist.
The news broke a short while ago, when Pastner informed the media after a Tigers practice.
From the outside, it seems Pastner's basically saying, if this team is going to lose, it's going to do it with the future of this program and the guys who are fully invested. That anyone who's immature, lacks leadership and embodies apathy, those guys, they can take a hike and do some soul searching. That's what Pastner's put in front of Witherspoon now.
Will he be back? After Kendrick's jettison act, who knows for certain? This team is young and talented and we all expected some drama. Who knew we'd get a fireworks show like this, though?
The 20-year-old, 6-9 Witherspoon was thought to be the leader of this team back in October. But the forward's had far too may non-impactful performances throughout Memphis' 12-4 season so far. He's been anything but a model alpha for this group. Many close to the program have seen the proof first-hand: he doesn't work hard, he doesn't guard anybody and he generally doesn't care too much about which way the ship sails.
Basically the feeling is losing doesn't bother him. And with Pastner, that's something he won't tolerate — all the way to the point where he'll temporarily remove a guy from the team.
The second-year coach is trying to change the tone. Pastner's a young guy too (33), so it's all the more impressive he's so insistent with his team like this. He knows this decision immediately creates a swirling melodrama around his already unstable team.
Tells all you need to know about how fed up Pastner is with Witherspoon.
Photo: AP