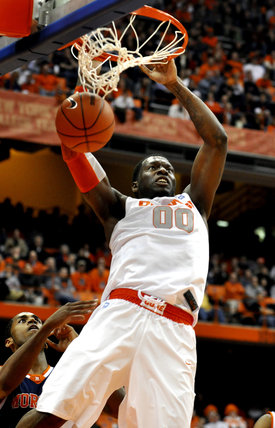 Posted by Matt Norlander
This is a nice little treat, huh? A day full of basketball on a Monday. It's got that conference tournament feel to it, doesn't it? First off, if you've got the time (you've got the time),
why not revisit the speech
that put this day, the one that honors one of the most influential men in the history of mankind, into motion.
I'm off to cover Villanova-UConn in a little bit, which means I'll be missing some of the good hoop going on around the country as I try and get some halfway-decent quotes out of Jim Calhoun, win or lose. So here's the four-pack of games to concentrate on all day/night. All times are Eastern and all the games are on ESPN.

Villanova at Connecticut, 3:30:
This has turned into a must-watch. Will Kemba Walker try to one-up Jimmer Fredette's 47-point performance from last week? It's an interesting scenario, because UConn no doubt needs Walker to continue to fill up the stat sheet, but in conference play, it's going to take more than a 33-point, four-steal, five-rebound, six-assist performance from Walker. At least on some nights. Villanova's coming off that come-from-behind win at home against Maryland less than 48 hours ago. Will they have the legs to run in Storrs?
Kansas St. at Missouri, 5:30:
Missouri, unlike 'Nova, gets a home game two days after an overtime performance. It was a loss against Texas A&M, the game many considered this past weekend's best. So Kansas State seems to be in a tough spot here. The Wildcats are 13-5, and if they lost, they'd be 1-3 in the conference. Curtis Kelly is back with the team after serving that six-game suspension for receiving improper benefits in the form of a few hundred dollars' worth of clothing from a local department store. Going to help. If this one isn't close with two minutes to go, it'll be the upset transgression of the night.
Syracuse at Pittsburgh, 7:30:
Game of the night. The winner of this one gets to rightfully be crowned, for now, as the Big East's best team. But how about this: If Syracuse wins on the road at the tough-tough-tough Petersen Events Center, why isn't the Orange the best team ... in the country? Ohio State was nearly taken out by Penn State over the weekend, and Syracuse hasn't looked nearly as beatable as the Bucks as of late. Just something to ponder. But it could never come to pass, as I said, winning at Pitt is one of the toughest propositions in college basketball. This is setting up to be a good one. Like a 66-64 final.
Kansas at Baylor, 9:30:
If Syracuse does fall, it will mean three undefeated teams remain. Given two of the four flawless go on the road tonight, it's more than conceivable that Ohio State and San Diego State will be the only goose-egged teams left in the nation. I'm a fence-sitter on Baylor right now. If the Bears defeat Kansas tonight, consider me a convert. But I think the Jayhawks don't even keep this one close in the final five minutes. The Morris twins are playing so well, I wonder if Perry Jones and Quincy Acy don't get overwhelmed tonight. Regardless, this quadruple-header of games is the best run we'll see until the aforementioned conference tournaments begin in, wow, just seven weeks.
Photo: AP