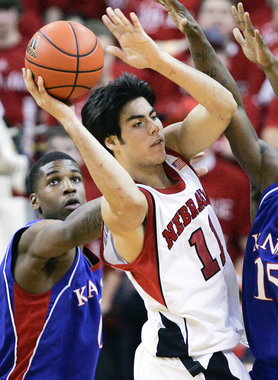 Posted by Matt Norlander
How ironic: doing some exploring is the very thing that will prevent Christian Standhardinger from becoming an Explorer.
Less than two weeks after
declaring he would enroll with the La Salle,
Standhardinger, the former Nebraska forward
couldn't keep his sex drive in his pants while in a public place.
Because of that, it's going to cost him a spot with the Explorers.
Yesterday La Salle announced the incoming transfer. Today, they've removed themselves from him.
Standhardinger — the sound of that name as it relates to this crime is not lost on me, I promise — was cited for public indecency early Wednesday morning. This unintentional hit on his name, and La Salle by proxy, means he's getting cut off from the program before ever arriving on campus.
Police spokeswoman Katie Flood said Wednesday that an officer found the 21-year-old Standhardinger and a 19-year-old woman engaged in a sex act a few hours before dawn Sunday in a Lincoln park.

Standhardinger and the woman were cited for public indecency and for being in the park after hours.
From all of us who've risked that pleasure in a car and gotten away with it, let me say, I'm sorry, Christian. It seems the Lincoln Police
aren't as easy-going
as many an officer who merely taps on the window with a flashlight (that's gotta be horrifying, but isn't the thrill why you're at the park in the first place?) and asks you to be on your merry way.
La Salle coach John Giannini
said today,
"Christian has recently been made aware of a personal situation that demands his full attention. We believe it is in the best interest of all parties that Christian Standhardinger does not attend La Salle University."
Harsh! Getting booty comes with a price in some shape or form, but this is tougher medicine to take than a stage 5 clinger.
The 6-8 Munich, Germany, native was putting up 9.5 points per game prior to his transfer announcement in December.
Photo: AP