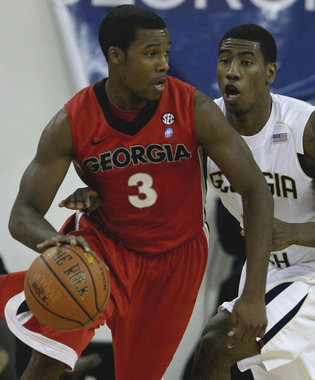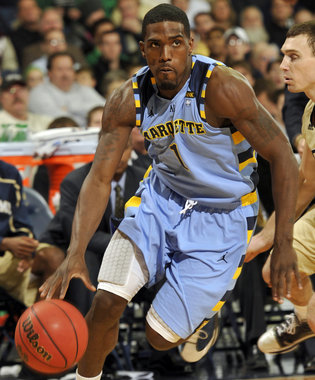 Posted by Matt Norlander
We're debuting a new weekly feature today. The title I'm not so nuts about (it won over "Rivaling Résumés"), but the objective should be pretty fun. Call it a twist on bubble watching, only it's not just that. Every Tuesday I'll be taking teams and stacking their ledgers against each other. Sometimes it will be to debate and determine at-large inclusion into The Tournament; sometimes it will be about seeding. To start, we'll take two pairs this Tuesday, looking at two teams firmly on the bubble, and two more you might be surprised are closer in seeding than expected at first glance.
Battle on the bubble: Duquesne vs. Oklahoma State
Duquesne has come out of nowhere, streaking with an eight-game winning streak, to be tied atop the Atlantic 10 with Xavier (both are 5-0). It's the best start for this program in decades, so why not give them the inaugural treatment with this feature? The Dukes have a 36 ranking in KenPom world and 46 in the Sagarin universe (both objective, beautiful places to live, despite a lack of sand and constantly warm weather). Full disclaimer: I have not seen Duquesne play yet this season. There's a strong chance you're in my company.
With that out of the way, let's look at what the team's accomplished. The losses are all OK, save for the road one at Robert Morris; that did come in the Dukes' second game of the season, the first one against a D-I opponent. As we move further and further away from the RMU loss, its meaning does diminish. Pittsburgh, Penn State, West Virginia and George Mason (two OTs) are the others who've picked off the Dukes. Not embarrassing whatsoever, considering George Mason is a top-40 KenPom team. Win-wise, home vs. Temple on Jan. 15 is the only thing to hang outside the window for the Dukes.
Okie State is 14-5 and has a 73 KenPom ranking, 58 in Sagarin. Same number of losses, but the opponents are a little worse, collectively, and the teams who did fell OSU are worsening the Pokes' reputation by the day. Losing to Texas A&M is fine and dandy, and even the Virginia Tech loss on Nov. 26 has improved with age. But Baylor, Colorado and Gonzaga are tailspinning and pulling Oklahoma State into the spiral with them.
Missouri State, who is atop the Missouri Valley, and Kansas State, those are the two wins Travis Ford's team can be proud about right now. A win against Texas tomorrow would easily catapult Oklahoma State past Duquesne.
The pick: Oklahoma State, but it's way close. The strength-of-schedule probably is what does it (OSU: 59; Duquesne: 127). The good news for Duquesne is the still-undefeated conference record and the fact it turns teams over at a higher rate than anyone else in the country. Chances are this team won't be vaporizing its chances any time soon. Plus, if the Dukes finish with two losses, maybe three, in the A10, this won't be a debate.
Who should be seeded higher: Georgia vs. Marquette

Both teams are safely in the field as of now, by my count. What's intriguing about this pairing is how familiar you likely are with one team compared to the other. Marquette's on national television with regularity; Georgia is not. Georgia hasn't been for some time. Now, the Bulldogs get a game tonight on ESPN against helter-skelter Florida, and if they win, we could be looking at a 7-seed for them. Marquette gets a home game against Connecticut, which, as Andy Glockner notes this week, is now 1-seed-worthy.
So what types of seeds are we looking at for these teams? As of this moment:
Georgia, 9-seed. Wins over Colorado and UAB, two teams that will likely be irrelevant by late February, are paying off right now in bubble-watch ways. (This field is so damn weak.) The Bulldogs have the 89th-toughest schedule, according to Sagarin, which doesn't matchup to Marquette's No. 31. However, the Golden Eagles are a benefactor of the Big East. Georgia lost in double-OT to Notre Dame, looking better by proxy after what the Irish did last night. But let's get right to it: beating Kentucky Jan. 8 is what gives Mark Fox's team a lift right now. The sweep over the Mississippi schools is another trump card, but UK is the primary scalp on Georgia's shoulder.
Marquette, 11-seed. The Eagles are below .500 in close games again, with a 2-6 record in tilts decided by five points or less. Does this sort of information get factored into seeding? It should. Marquette is 2-6 against the Sagarin top 50 and did zip outside the conference. Not one good win, unfortunately. That puts them below the dreaded 8/9 game in this year's field as of now. Beating Notre Dame, since Georgia didn't, is why I lined these two teams up. Will that win eventually look better than Georgia's over Kentucky? Will be interesting to see, because the Big East is so deep, and UK will probably stay atop the SEC, per usual, bloating the significant of Georgia's win. Buzz Williams' team needs to win close ones, especially on the road, to climb up the seeding ladder.
Photos: AP