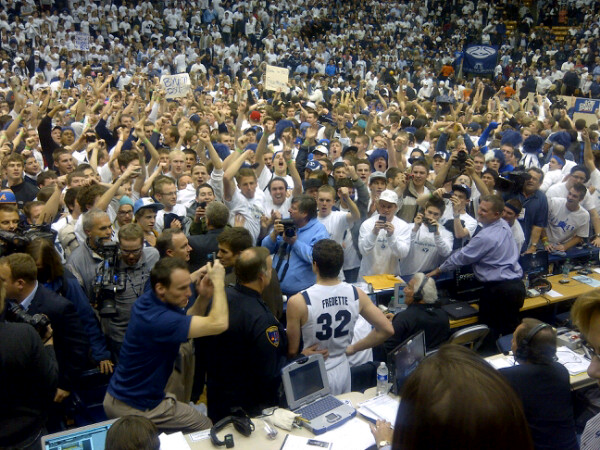 Posted by Matt Norlander
That's not a basketball game. That's a bloody rock concert. The front man at the edge of the stage, imploring his fans to lose control.
What a photo.
And it's courtesy of
Jacksonville Jaguar Kirk Morrison,
a San Diego State alumnus who was in Provo Wednesday night to watch his undefeated Aztecs lose that label after Jimmer Fredette exceeded expectations and scored 43 of his team's 71 points.
Incredible how the penultimate team to lose its first game, at the end of January with a No. 4 ranking, ends up being a sidebar. But that's what Jimmer does to a situation: he takes over it. The kid has NBA
icons tweeting
about
his greatness
and, well, is pretty much getting the opposite kind of treatment Jay Cutler received in the Twitterverse a few days ago.
Jimmer is not a cult figure anymore. He's as beloved and mainstream on the mainstage as Springsteen.
In a game-time span of about five minutes midway through the second half, the Aztecs went from No. 4 and undefeated alongside Ohio State, to second place in the Mountain West (5-1) behind 6-0 BYU. Like that, they had their undefeated run evaporated, eviscerated and overshadowed by the Cougars' most iconic player of all-time.
Since Parrish will be tackling the circus that has become Jimmermania in his on-site column, allow me to switch to San Diego State,
which fell 71-58
and, ya know, is still a very good basketball team.
The Aztecs got a mammoth effort out of
Kawhi Leonard,
which can't, can't, can't go overlooked. Leonard was said to be battling flu-like symptoms and had an IV hooked up to his arm for a good while before tip-off. The lottery pick finished with 22 points and 15 rebounds, nine of those offensive.
But Leonard didn't get much help. The reason was some fine-tuning, defensively, from BYU. Angevine will be along after breakfast to break down why certain things worked for Dave Rose's team. But back to SDSU, which had Malcolm Thomas as the only other player in double digits. He had 10.
Steve Fisher's team lost its legs down the stretch and couldn't keep pace with BYU, a little surprising, considering the Aztecs are the more athletic team, overall (though BYU can push it). Wyoming, Colorado State, TCU and Utah are next up for the Aztecs. We could and should be looking at a situation where, at worst, SDSU will have two losses when it meets BYU again, the rematch coming on CBS Feb. 26.
Perhaps all this Jimmer talk is a good thing for San Diego State. Firstly, it overshadows any overreaction from fans, Twitterites and pundits. In this era, that's a good thing. Additionally, it puts SDSU in an underdog role going forward. Something of a respect card can be played, if you can believe it, because of this loss and all the love BYU has and will continue to get.
As of late, the Aztecs got respect and love as well, but these motivations can get teams through tricky stretches against inferior competition. The loss, we may find out, couldn't have come at a better time for San Diego State: just before the pressure started to increase, and just after everyone had accepted it as the real deal.