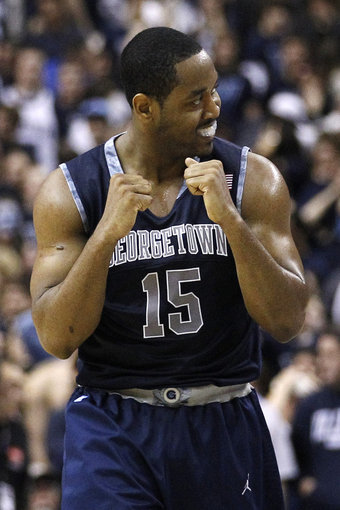 Posted by Matt Norlander
PHILADELPHIA — He's just so
casual
about it.
Perhaps that's the most impressive aspect to
Austin Freeman's
personality — because it contrasts so glaringly with how he makes a stat sheet pop. Thirty points, six assists, one turnover, 8 for 8 from the foul line, two 3s, three rebounds and, most importantly, lifting his team for the first time this season to an above-.500 record in the Big East.
Yep. That's right: It took until Jan. 29 for No. 21 Georgetown to get its head above water in the conference. But it's now there because of what Freeman (right) did to Villanova Saturday afternoon in a
69-66 Georgetown
road win. He's more than insurance policy; he's a certified life saver.
And here's Freeman at the podium in the post-game press conference looking as quiet as a boy sitting next to mother in church.
And there's Freeman talking to a handful of reporters in the hallway after said press conference — because this kind of performance demands more than the usual 10-minute meeting with the media horde — acting as businesslike as the men assigned to empty the garbage cans at the Wells Fargo Center on the outskirts of Philadelphia's city limits.
Saturday afternoon's dramatic, important and possibly season-changing (but let's wait for more evidence before going there) win against eighth-ranked Villanova
could
be the type of win every team hopes for but not the one every team gets: a W that validates a conference season, a purpose and place, for a group of young men.
Freeman's production was significant and consistent for 40 minutes, but it was during the final stretch his play ensured his Hoyas would head home happy.
"Austin Freeman, in most situations, is unflappable, so that last three minutes was indicative of what he's done for four years here," Georgetown head coach John Thompson III said. "I tell you what, I'm glad … No. 15 was on our team. There's a comfort level. They (Villanova) were running, jumping, trapping, tripling sometimes; just made it hard to do anything. Just felt, when we got the ball in his (Freeman's) hands, good things happen."
There is little doubt, had Freeman not been on the floor Saturday, Georgetown probably wouldn't have won the game. No. 15 was everything his head coach needed him to be and more. After all, it was just earlier this month that many so quickly began to forget about or dismiss Georgetown. Three-game losing streaks aren't uncommon, even among the strong in the strongest conference in the country, consistently, so perhaps tales of the Hoyas' demise were exaggerated.
But, still, after falling in those three consecutive tilts — to St. John's, West Virginia, Pittsburgh — Georgetown went from a top-15 ranking in the national polls to 1-4 in the conference and chilling in the Big East basement with South Florida, Seton Hall and Providence. All this in the span of nine days.
Plenty of time for everyone, me included, to get hasty in our judgments of JT3's teams. Just a few days ago, maybe even as late at 1:45 p.m. ET, Saturday, the Hoyas weren't considered to be in Villanova, Syracuse or Pittsburgh's class. (Just take a peek at how those teams have performed of late.)
A veteran crew, led by invaluable go-to man Freeman, has kept this team from losing pace.
"Having Chris (Wright), Austin, Julian (Vaughn) and Jason (Clark), guys that have been through this, we realize how long the year is, and we've had time to climb out," Thompson said. "There was no panic."
I previously wrote about, in the broad scheme,
Wright's value to Georgetown.
But in tense moments, it's clear Freeman is the guy who needs to have the ball in his hands. Just ask the Georgetown point guard, who summed up his teammate's role matter-of-factly.
"The thing about it is, we all have roads, and Austin's road is to score 30 points in games like this," Wright said. "The jumper he hit on the left wing [at the end of the game] was crazy. It would be stupid of me and my teammates to not give him the ball."
And so JT3 can use simple coding from here on out to send a message to his team while on the floor: Don't be stupid, or: give Austin the ball. Freeman does it all, really. The argument exists that his biggest play wasn't a made shot.
Even when Villanova really threatened near the game's end, forcing a couple of bad, uncharacteristic Hoyas turnovers in the final three minutes, everyone knew to not get stupid; just give it to Freeman.
With that collective mindset, Freeman scored 12 of the final 16 Hoyas points in the remaining seven minutes. He accounted for two of the four he didn't score on an assists, a heady play in the form of a 40-foot pass out of a trap to a wide-open, seldom-used Nate Lubick, who flushed down a dunk with 23 seconds left. It's easy to forget about that sequence after Freeman hit a shot from the corner that went up just before the shot clock hit 0, with 41 seconds to go, crowd squirming, that gave Georgetown a 63-60 lead.
"They did get a little more aggressive on the defense end with forcing traps," Freeman said.
Within these games, as they are happening and his stat line is looking more and more pregnant, is he aware of the damage he's doing?
"Not really," a coy Freeman added.
Despite his age and experience, Freeman said these kinds of games, win or lose, haven't gotten easier or tougher — they've merely continued to be part of his college experience. "It's just always tough," Freeman said. "I just try to prepare myself physically and mentally for every game."
Mentally, Georgetown only has to have one conviction and game plan going forward: don't be stupid.

Photo: AP