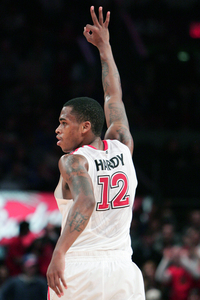 Posted by Eric Angevine


Duke lost a game. That's not big news.
But what's this? They lost to an unranked opponent?
They lost to an unranked opponent by DOUBLE DIGITS?
Now that's a story.
St. John's senior guard Dwight Hardy had a big game on one of basketball's biggest stages. The kid from the Bronx poured in 26 points on 9 of 13 shooting, and the Red Storm as a team made their living inside the arc, taking just five three-pointers and shooting 59.3 percent from the floor overall. The home team defeated Duke for the first time in eight long years, winning in convincing fashion, 93-78.
You may surmise that Duke did not shoot as well, but your jaw may drop when you see just how badly things went. With five minutes left in the game, the Devils were shooting just over 4 percent from deep. 1-21 to be exact. That kind of shooting had them down as much as 21 points on the Garden floor, though the shots started falling in rapid succession in the final two minutes, eventually raising that number to 5-26.
The poor shooting was reminiscent of Duke's only other loss -- at league foe Florida State -- though it was much worse than the 30 percent they managed on January 12th. Despite Duke's legion of hot-shooting guards, a blueprint is emerging for beating the champs - get physical inside and force them to take jumpshots. It won't work every night, but we've seen it work twice now, so let's call it a trend.
St. John's sits at 4-5 in the Big East, but this single win puts Steve Lavin's team in the at-large conversation, though there must be an above-.500 finish in the league and most likely at least two wins in the conference tournament to offset early bad losses to St. Bonaventure and Fordham. The Johnnies have a chance to build on the current momentum when they host Rutgers this week, and then travel for an out-of-conference date with the UCLA Bruins, where Lavin coached from 1996 to 2003.
Photo: US Presswire