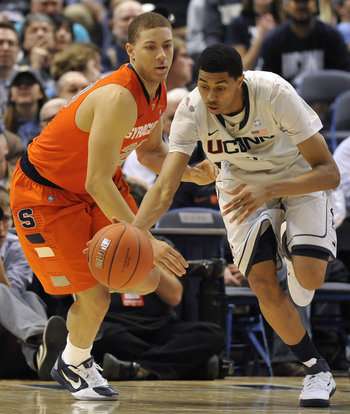 Posted by Matt Norlander
HARTFORD, Conn. — If Kemba can't …
It's a proposition most UConn fans didn't want to even begin to maybe even think about possibly mulling within their minds. But the elephant in the room is unable to be tucked under the lampshade anymore.
Sometimes, Kemba can't. Wednesday night, certainly, Kemba Walker couldn't. It was such a disappointing performance in the eyes of his coach, Jim Calhoun, that the Hall-of-Famer didn't want to talk about anyone on his team — except for this particular freshman that's no longer a secret in the Big East.
"Individually, I have no comment about any of our players, except for Jeremy (Lamb)," Calhoun told the room filled to the brim with media in the bowels of the XL Center.
The good news? If Kemba Walker can't, Lamb (right) can. He proved it in UConn's 66-58 loss to Syracuse. Ah, the loss. That's the problem, yes? Yes.
So, now, a question must be posed: Is Lamb's production, in the here and now, a good thing? That's certainly up for debate. Sure it's fantastic to see others around Walker playing well … but at Walker's expense? Consider, after mentally and physically relying on Walker for 17 games, the Huskies have watched Lamb blossom into something more than just a No. 3 option, even if he's not quite a No. 2. (After the stats average out in the wake of the loss to Syracuse, Lamb and Alex Oriakhi will be in a dead heat for second-leading scorer on the team behind Walker.)
Lamb has spent the last four games — wherein the Huskies went 2-2 — stepping up for his junior teammate, who's averaged a bad-for-him 14.5 points in those games, dovetailing with a season-low eight points Wednesday night against Syracuse.
Lamb's average in that four-game span: 20.8 points. It's clear he is already mature and comfortable enough to be the No. 1 option, if it comes to that, for this team.
"Yeah, I think we can definitely still win games like that," Lamb said when asked if him playing the alpha is ultimately good for UConn.
Of course he's got the confidence right now — can you blame him? Down the stretch Wednesday night, the offense wasn't going through the potential player of the year (though that's a star that's beginning to dwindle). All the expectation was on the rail-thin freshman who's got the fledgling form of a real offensive threat.
"Jeremy's one of the hardest workers on the team," Oriakhi said. "For the games he's having, I'm definitely not surprised. … I think we were looking for Lamb a little bit more. He was the hot hand, so, you know, whoevers hot on the team, that's who we're going to give it to."
The somewhat-worrisome news for Huskies fans can be found in this quote:
"We were still running plays for Kemba, but it was misunderstandings sometimes," Lamb said. "Sometimes I was supposed to get the second option and stuff like that. Sometimes the pick wouldn't come, we were forgetting plays, so … I was ready to knock down shots."
Lamb followed that up by saying, "If I'm the No. 1 scorer, I think it's going to make teams harder to guard us, because they can't key in on two people."
True, but as of late, that's not been needed against UConn. The pressure of making up for lost production from Walker, Oriakhi and fellow frosh Shabazz Napier? Lamb has a lion's pride in that respect.
"No pressure," Lamb said. "I don't even think about it."
Lamb already has the respect of not only his teammates, but his opponents and the coaches who scheme against him in the Big East.
Perhaps the strongest of commentaries on the Walker/Lamb dynamic came from Syracuse coach Jim Boeheim, who admitted he didn't scheme too differently from what he'd done against UConn (read: Walker) a year ago. He praised his team's collective defensive effort, then went to discussing Lamb jumping off the tape in the games he'd watched while preparing for Wednesday night's critical matchup.
"He's (Lamb) been playing good," Boeheim said. "The two guys I was worried about, him — (Roscoe) Smith has games where he's made threes; tonight he didn't. But that's what you get when you rely on freshmen. ... Lamb is very good against zones. He's smart, he can shoot — he's got that in-between shot — he's a very, very good offensive player."
You're not going to convince many people that UConn can be scary in any way if Walker's held in check for the better part of 40 minutes. After the game, Walker was soft-spoken, leveled, and in an interesting position during interview session. He took questions from a small group of reporters, while three TV cameras and another seven print reporters huddled around Lamb.
Places had been traded on both the floor and in the interview room. Walker remained leveled and unemotional.
"We have nine more games left," Walker said. "It's not the end of the world. We've lost four games. We're way ahead of where people thought we would be."
He makes a solid point: the team is still ahead of expectations. Even if this two-game slide brings on a mild state of panic in amongst Connecticut fans, many still believe the team was playing with house money for a large portion of the year.
"He's still a great player," Lamb said of his teammate. "I just think tonight he let referees get in his head. Once he didn't get certain calls, he got a little frustrated. … Right now I'm hitting, and Kemba's having some tough nights. But it's not like I'm the only one who's doing something."
It seemed like that down the stretch Wednesday night. This is a mini-crisis for UConn. Now, will it become an identity crisis? The Huskies, for as much as they need Lamb's production, can't have questions on who's running the show if they stand a chance to make a run down for the remainder of this season and in the NCAA tournament.
"A month from now, I think we're really going to forget about this," Oriakhi said. "Kemba's going to get out of this slump."
Lamb finished up by saying, going forward, the offensive philosophy will probably adjust in scope.
"I think the team will definitely be looking for me more, but at the same time, Kemba's still going to get buckets," Lamb said. "Like I said, he had a tough time tonight and a tough last game, but great players bounce back. He still going to do what he do."
The sooner Walker gets back to doing what he do, the better UConn — and Lamb, strange as it may seem — will be. It's not yet time for Lamb.
Next year, the show will be his. And then he'll really be able to know what pressure's like.
Photo: AP