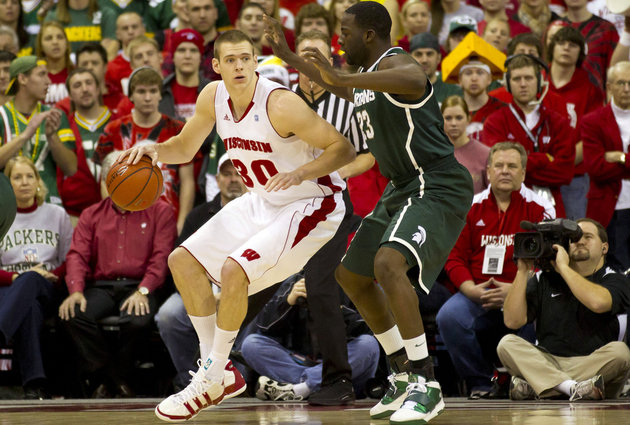 Posted by Matt Norlander
Teach me how to Bucky, teach me, teach me
how to Bucky.
Nobody can Bucky quite like the Badgers. This blog post is coming to you fresh off one of the smoothest,
most efficient beatdowns
you'll see in major-conference basketball this season, an 82-59 Wisconsin win over Michigan State.
Yes, this
was
against Michigan State, which is suddenly a detriment to opponents' credibility. But pay no mind to that, please! The game was the hardcourt equivalent of what
Anderson Silva did to Vitor Belfort
Saturday night; just a swift, concentrated kick to the face of the Spartans. I suppose that's the primary reason I was inspired to write this post — I was that in awe of what Bucky was doing to Sparty. This wasn't your typical laugher, though it is funny it took me until now to write a love letter to Wisky.
Jordan Taylor,
who's still not a household name for the precise reason he plays in Madison, Wisc., went for a delicious 30 points against Michigan State at the Kohl Center. Jon Leuer (above, guarded by Michigan State's Draymond Green) put in 20 more.
People: Wisconsin scored 82 points Sunday afternoon. It averaged 69 heading into today's game. UW was 11-of-17 from behind the 3-point line and went
25-for-26
at the free-throw line! When was the last time a team shot better than 95 percent at the line in a game wherein it took more than 25 free throws?
These are incredible numbers, in a vacuum, but they're not too, too far off from what
Wisconsin's been doing
for the majority of this season.
The Badgers scored 1.52 points per possession against Michigan State. If you need the perspective, the nation's leader in points per possession is currently Pittsburgh, at 1.22 PPP. But that will change once the computers crunch the numbers at night's end; Wisconsin is/was .1 PPP behind the Panthers. That's hardly bad news, considering
other things coming out of the Pitt program
this afternoon.
The Badgers, winners of 16 straight at home, could be on their way to becoming The Next Hot Thing. (Your current Next Hot Thing: Texas.) Considering Wisconsin
is currently
the best free-throw shooting team in at least a decade (way to bolster that percentage even further today, boys), as well as being the
most proficient club
at turning you over, it looks as if Bo Ryan's team is on a crash course to crushing a couple of cruddy-by-comparison teams in the first weekend of The Tournament.
Photo: US PRESSWIRE