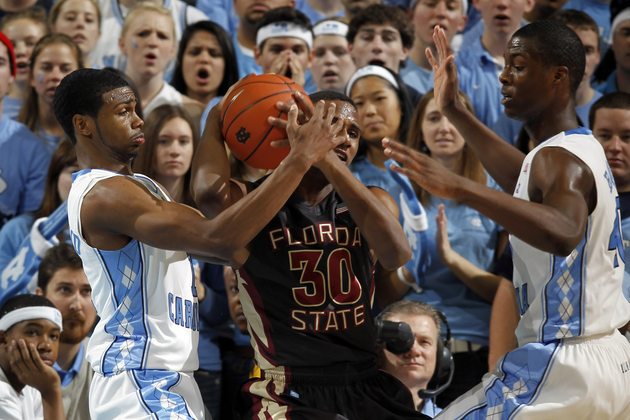 Posted by Eric Angevine

I hope Larry Drew isn't holding his breath, waiting for UNC to fall apart without him.
He'll turn blue waiting for anyone to regret these numbers: 89, 69, 16, 3, 3.
The first number is UNC's points scored, the second belongs to Florida State. The next three represent freshman point guard Kendall Marshall's assists, turnovers and steals.
Thanks to Marshall's largesse, the numbers were healthy all around. John Henson had 16 points and 11 boards. Harrison Barnes 17 and 9. Ty Zeller scored 16 and Dexter Strickland had 15.
Despite all the drama surrounding his lineup changes and the sudden departure of Drew, Roy Williams has his Tar Heels right where he wants them at this time of year - contending for the ACC lead.
Heading into Wednesday's trip to Cameron Indoor Stadium, UNC is right behind the Duke Blue Devils in ACC play at 7-1. Marshall, whose elevation to the starting lineup seems to have catalyzed Drew's decision to leave, had a school-record-setting passing performance against the same tough Florida State defense that humbled Duke on January 12.
His fellow freshman, Barnes, played with a hard-won sense of poise that allowed him to suffer the slings and arrows of outrageous message-board fans long enough to become a valuable part of the Tar Heel offense. Where some other athletes might have crumbled under the pressure (perhaps Drew did?), Barnes displayed mental toughness in working toward being the player he wants to be, rather than the player the nation's fans and pundits want him to be.
Today's result -- indeed, the results of the past two weeks -- prove that Drew's departure was a matter of addition by way of subtraction. With Dexter Strickland, Kendall Marshall and Reggie Bullock running the floor with big men Barnes, Ty Zeller and John Henson, every Florida State miss became a race to the opposite end of the floor. Forced to react on the fly rather than establish a half-court bulwark, the Seminoles were caught flat-footed far too often. Even when FSU had defenders in place, Marshall's passing was crisp and heady enough to result in points anyway. This looked a lot more like the Carolina teams we've seen in the past.
The Heels can't expect the Devils to give them as many opportunities to start the break with defensive rebounds, but they've found their mojo just in time to make the upcoming Wednesday matchup the most intriguing game in the country again. That's good for both teams, good for the ACC, and good for college basketball.