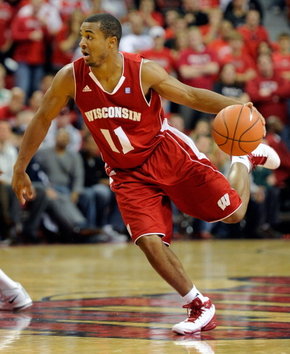 Posted by Matt Norlander
If it's going to take another big win or two
or six
before Wisconsin gets the pub and love it deserves, how long is it going to be until
Jordan Taylor
is seen as one of the best in the country at his position?
Voters for the Bob Cousy Award need more evidence, apparently. A day after Taylor went for 30 points and six assists in a
beauty of a game
against Michigan State, the 10 finalists for the best-point-guard-in-the-country award
were announced Monday, Taylor getting snubbed.
Xavier's Tu Holloway was also somewhat-egregiously kept off the dwindled list.
Your finalists, in alphabetical order:
Cleveland State's Norris Cole
Villanova's Corey Fisher
BYU's Jimmer Fredette
San Diego State's D.J. Gay
Kentucky's Brandon Knight
Illinois' Demetri McCamey
Saint Mary's Mickey McConnell
Duke's Nolan Smith
Washington's Isaiah Thomas
UConn's Kemba Walker
Taylor cannot win his way back on to the ballot. No doubt this year is a good one for point guards in college basketball (yet the sport is rightfully perceived to being in a down cycle), but Taylor and Holloway should replace McCamey and Fredette. Jimmer is not a true point guard, folks.
Back to Taylor, who is averaging 17.8 points, 4.6 assists, 4.4 boards per game. You could build an argument around him being overshadowed by a better player on his team in Jon Leuer, but even Leuer continues to be criminally under-appreciated at his own position (power forward).
No wonder Bo Ryan so frequently
looks like this.
Taylor's in the top 10 nationally in 11 categories, most notably
turnover percentage
and offensive rating. Only seven other guys give the ball away at a rarer rate than Taylor — none of those players are the ones listed above. Taylor is eighth; Kemba Walker is
36th.
More than half the finalists don't even crack the top 100 in ball security, arguably the most important facet of point guard play.
As for the offensive rating, Taylor's the
10th-most effective offensive player in the nation
as of Monday afternoon. Awesome numbers. In fact, Wisconsin has three in the top 10, which has got to be bending hoops laws in some way, perhaps hurting Taylor by proxy. McConnell of Saint Mary's is seventh in offensive rating, for the record.
Award-snubbage isn't the most desirable of topics — college basketball already has about 25 too many statues handed out each year — but the stiff-arm delivered to Taylor here is eyebrow-raising. Few players (read: much less than 10) contribute with incredible effectiveness in nearly every offensive category like Taylor does. Is it possible he's being overlooked because Wisconsin's still fighting off an unfair stench that lingers from the Big Ten's past play. Yep.
Photo: Getty Images