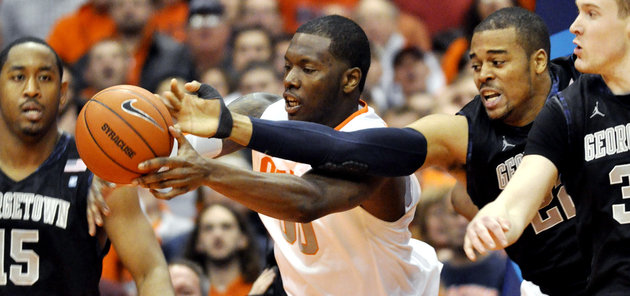 Posted by Matt Norlander
SYRACUSE, N.Y. — Rick Jackson doesn't want to talk about or acknowledge Syracuse's flaws.
"I don't know. You're going to have to tell me," Jackson said after the Orange's 64-56 home loss to Georgetown Wednesday night. "I can't point out our flaws and what we need to work on. You can decide that."
In a minute.
"That's as good a defensive game as we've played this year," Syracuse coach Jim Boeheim said. That could be worrisome for Orange fans. It wasn't a standout defensive game, really. Georgetown shot better than 50 percent from the floor effectively (53.8) and turned it over on 22 percent of its possessions (SU got careless 24 percent of the time). Eighty-three percent of the Hoyas' baskets came off of assists, which is what the Georgetown offense is designed to do.
Plainly: Syracuse, big-picture, may have slowed the Hoyas a bit, but the Orange didn't make their opponent alter from its game plan.
It had been nine years since Georgetown won in the Salt City, though that statistic's a little misleading, as the Hoyas and Orange haven't played in each other's gym every year since the Big East expanded to 16 teams. The primary reason John Thompson III got his first win in the Carrier Dome was due to the switch Georgetown flicked up down in the final portion of the ball game. The Hoyas took advantage of an absent-minded Syracuse defense in the last eighth of the game, finishing off the Orange with a 15-3 run in the final 5:37 to win 64-56.
SU guard Brandon Triche said Georgetown didn't surprise he or his teammates at all. That's why they were most frustrated in leaving with an L.
"It's tough to lose, and it's even tougher to lose when you know what they're going to do," Triche said, following up his statement by saying the team has become one that sees its play embellished when it has the confidence to match.
"I think our confidence was high, and it's gotten a little bit lower," Triche said. "We're a team whose guys are built on confidence. When it goes down, we're a different team. I don't think it's any [other] type of flaws. Defensively, the last couple of games, we've actually been improving and being more active."
There were times when the Orange appeared to lack urgency and got fooled by Georgetown's collective court-seeing ability. It was an aberration to Syracuse's defensive behavior from earlier in the game, but of course it came at the wrong time. Losing a sense of urgency and spacing on the floor isn't a good sign.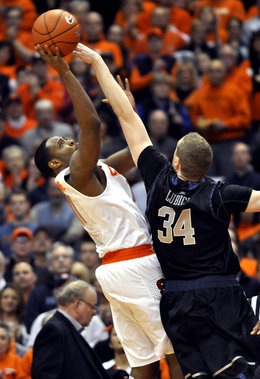 "We had opportunities to score — a lot of them — but we missed layups, and it just didn't go in," Scoop Jardine (right) said. "We had the game won, and it hurts to lose tough ones like this at home."
So let's get to those flaws. Every single team has them. Which are Syracuse's? Well, let's start by stating: Syracuse is a strong, competent squad with a ceiling that hovers somewhere between the Elite Eight and the Final Four and a floor that could be losing in the first round as a 7-, 8- or 9-seed. It's the Orange's lack of offense in a big spot that's truly concerning. It wasn't there tonight, and with no premier, make-it-happen-in-a-big-spot point guard and a lack of a true, consistent deep threat, it's destined to happen again.
"We just had a great offensive game last week. We had a bad one tonight. I don't understand that (question)," Boeheim said when a reporter asked if Syracuse was beyond a point of improving its offense this year. "It doesn't mean we're going to have a bad one tomorrow."
Boeheim is right. Such crippling droughts — I mean, just 56 points at home? — haven't been abundant this year. But down the road, when it happens again, are there enough components for the Orange to overcome a really bad shooting night?
"This was a great defensive effort against a very good offensive team, but we've just gotta score points," Boeheim said. "The main difference between this year and last year, you know, I think we're as good defensively, but we can't score enough. … Certainly that's going to catch up to you."
It absolutely will. Georgetown hit six 3s in the first half, which allowed the Hoyas to keep pace with Syracuse, then have an opportunity to kill their bitter rival with backdoor passes and opportunistic rebounding. The former is a familiar Hoyas trait. The latter? Unh-uh. By game's end, the 14 Orange turnovers, 39-percent shooting and Georgetown's 45-percent offensive rebounding percentage seemed to be the catalysts for the outcome.
"The games that we've struggled in, we've shot less than 40 percent and less than 30 percent from the 3," Boeheim said.
Those games are fresh in the team's mind, as Syracuse has dropped five of its past seven after an 18-0 start that some were skeptical about due to the relatively weak nature of the schedule, inflated by the fact Syracuse didn't leave New York to play a game until Jan. 8 against Seton Hall.
One thing we saw in Syracuse Wednesday night: a hand-tied Rick Jackson. The Orange forward got into foul trouble for the first time this season in a big game, drawing his fourth whistle with 14:40 to go in the second half, prompting Boeheim to play freshmen Baye Moussa Keita, C.J. Fair and Dion Waiters.
Jackson admitted the quick triggers from the officials impacted his play.
"How you usually play, and the refs call flop after flop, of the ball fouls and things like that, it takes the physical play away from you," Jackson said. "You don't know what you can do out there. … It kind of makes you timid."
In fact, Boeheim and most of his players said they weren't happy with Georgetown drawing charges that seemed like flops. Syracuse players are pretty convinced it got a bad trio officials that weren't the typical Big East, let-them-play-rough crew.
"It wasn't defensive fouls; it was our offensive fouls," Jardine said. "I think they was flopping on them a couple of times and he (Jackson) just got the bad end of it tonight. … Arinze (Onuaku) went through the same thing. It's like that for big men when they're as productive as they've been."
Said Boeheim, "They looked like flops to me."
Jackson's foul problems will likely be the exception to the rule. And even when he left the game, Syracuse took the lead in his absence.
Look back on its season so far, and what was the game that stands out more than any other for this team? The Dec. 7 win against Michigan State at Madison Square Garden, right? And that's rotted away with each passing week. (To be fair, the New Year's Day win at home over Notre Dame is looking very good, as the Irish are on a six-game tear, going to 20-4 Wednesday night with an overtime home win against Louisville.)
Syracuse can and will continue to beat up on teams that won't sniff the NCAAs, even most likely snagging wins against strong competition. The zone's not going to duct tape the kitchen pipes when the water's bursting through later on this season against teams that will play better, on a neutral floor, than Georgetown did tonight.
"I'm not worried," Jardine said.
If Syracuse players don't address their worries and flaws soon, the team may become a shell of what it was in December, when it was undefeated and considered a national-title contender.
Photos: AP