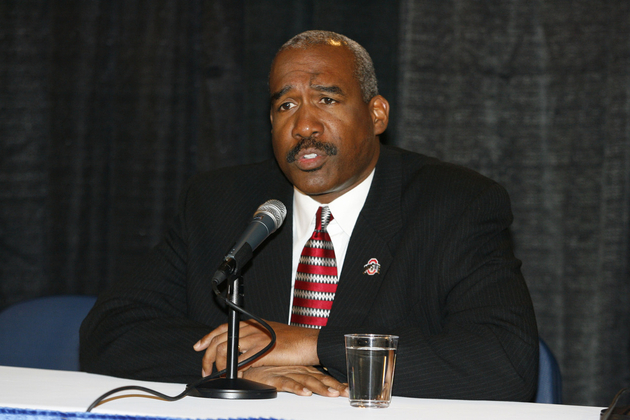 Posted by Eric Angevine


Typically, we like to keep our Eye on things here at CBS. Today, however, I was forced to break with tradition and put my Ear on a teleconference call in which media members were allowed to interrogate Gene Smith, the AD at Ohio State who was named the chair of this year's tourney selection committee.
The following answers are somewhat abridged to weed out the happy talk and get to the meat of each issue. There are only so many pixels to go around, after all.
On the most important criteria he considers when looking at a team

I don't have one particular thing, to be honest. I can't boil it down to one thing. I watch a lot of games on TV. Sometimes I watch whole games; sometimes I watch half a game. It always comes back to who'd you play, where'd you play, and how'd you do.

When we get down to those last teams, they all start to look alike. A former committee chair said you could slip a piece of paper between two teams sometimes.

On the importance of geography in the seeding process



We're putting together a national tournament. We strive to make sure we have competitive balance across the tournament. Geography is very important, but we try to make sure our higher seeds aren't at a disadvantage as far as crowds. We try to protect higher seeds and make sure they play closer to home.

On which part of the process takes up the most of the committee's time

Selection is the majority of the time. Tuesday, Wednesday and Thursday is all selection, then we might play with seeding Thursday night, but mostly seeding happens Friday and Saturday. Then bracketing is the last thing we do.

On the addition of the First Four teams to this year's selection process

The process stays the same. We won't know who's out and in until tournaments finish, so that takes time. The First Four teams will fall into place in our usual seeding process.

We will take (travel between Dayton and second-round sites) into account and be mindful of travel distances, but they land where they land. A blank bracket is available at NCAA.com so you can see what it will look like this year.

We'll have the same level of conversation about teams number 35 and 36 as we do about 1,2,3 and 4.

Answering a question about whether the Regional games are devalued between first-round upsets and the Final Four hoopla

I never thought of Regionals as being a stepchild. Every time I'm there, they're really excited to get to the regionals. A lot of institutions celebrate getting to the Regionals. They still celebrate those moments. It's the Sweet 16 and Elite Eight!

On the impact of this weekend's Bracket Buster games

They're just like every other game. Obviously we look at them all and we know there's more intensity around them. We can all pick out games throughout the year that are part of exempt events where there's a great level of intensity and we pay attention to them. They're noncoference games we pay attention to, but we don't put any additional emphasis on it.

On the increased availability of tempo-free statistical analysis

Every committee member looks at something different, but our own data is the most important to our process. Some of us look at those ratings and some don't, but we never really discuss them in the room.

On the concept of East Coast bias as it relates to the tourney

Individual committee members are assigned to watch specific conferences. So there are members watching the West. We also have members on the committee that come from the West, and they come in here with their West Coast badges on. We pay attention to all the teams across the country. We know there's good basketball across this country. We pay attention to everywhere.

On the new broadcast setup that will allow each tourney game to be televised in its entirety

People now will be able to see all the games they want to see all the way to the end. People in their living rooms can control what they see. Establishments can put up what people want to see while they're drinking their Diet Cokes. I'm really excited about that.

Photo: US Presswire