Posted by Jeff Borzello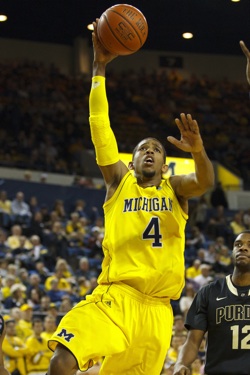 As we wind down the final couple weeks of the college basketball season, there is still plenty to be figured out in terms of the NCAA Tournament. It seems as if there are fewer flat-out "locks" this season than in years past, with very little truly set in stone. With only three Sundays until we find out who is in and who is out, this week is enormous to several bubble teams. Which teams have the most at stake in the upcoming week?
Baylor: This week will make or break the Bears' season, especially after their bad loss at home to Texas Tech over the weekend. They don't have very good computer numbers and their only really good win is over Texas A&M. However, there is a chance for Baylor to make up bubble ground with a road trip to Missouri and a home date with Texas A&M this week. If the Bears can win both of them, they will be right back in the mix. Splitting the two games would leave Baylor in serious trouble, as it finishes the season at Oklahoma State and home against Texas. The Bears need to get to .500 – this week would be a tremendous start.
Cincinnati: The Bearcats had a huge week with wins over Louisville and at Providence, but that is not enough for them to feel comfortable. Another 2-0 week would do the trick. Of course, the schedule gets a little tougher, with a road trip to Georgetown and a home date with Connecticut. Interestingly, it is the first of two games against Georgetown in the final two weeks for Cincinnati; the Bearcats need to win at least one of them. Cincinnati has a few good wins in its back pocket, including ones against fast-rising St. John's and Xavier. Getting at least a split this week against the Hoyas and Huskies is necessary.
Michigan State: One of three Big Ten teams with a huge upcoming week, the Spartans put themselves in decent position after their four-point win over Illinois. This week, Michigan State can solidify a bid, or head back towards the wrong side of the bubble. It has a huge game at Minnesota – the loser takes a step back in the bubble discussion, while the winner gets a little more confident. Saturday's home date with Purdue could be the key for Michigan State. The Spartans are still tough to beat at home, and a win over the Boilermakers could lock down a berth.
Michigan: Some people might not take the Wolverines' at-large hopes seriously, especially with only one good win – at Michigan State – on the resume. This week could create some believers, though. Michigan starts with a home meeting with Wisconsin on Wednesday, followed by a trip to Minnesota on Saturday. A win over the Badgers would add meat to the resume, while a victory over Minnesota would hurt the Golden Gophers' at-large candidacy while also getting the Wolverines to 9-8 in the Big Ten.
Note: If it wasn't clear, Minnesota also has a make-or-break week, with bubble battles against Michigan State and Michigan on the schedule.
Saint Mary's and Gonzaga: This boils down to the head-to-head match-up between the two teams on Thursday. Saint Mary's is one game ahead of Gonzaga in the standings, and also won the first meeting, but the Gaels are no longer in favorable at-large position after an awful loss to San Diego and a disappointing defeat to Utah State. On the other hand, Gonzaga has quietly crept back into the discussion, winning four in a row. The Bulldogs also have better wins on their resume, with victories over Xavier, Baylor and Marquette – compared to just St. John's (and Gonzaga) for Saint Mary's. If Saint Mary's wins on Thursday, it will win the WCC and essentially knock Gonzaga out of the at-large running. Both teams need the win.
Photo: US Presswire