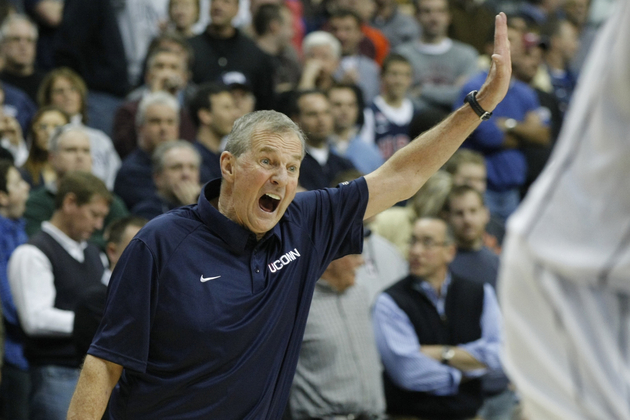 Posted by Eric Angevine

For starters, let's get the information straight from
@ZacBoyer at the Hartford Courant
:
NCAA announces findings, placing #UConn on three years of probation – today through Feb. 21, 2014

Former #UConn assistant Beau Archibald given two-year show-cause penalty by NCAA. Teams must prove reason why they want to hire him

NCAA suspending #UConn coach Jim Calhoun for first 3 games of next Big East season for failure to monitor, promote atmosphere for compliance

Josh Nochimson, former #UConn manager, agent, permanently disassociated with university. No contact with any member of athletics department

#UConn will have 12 scholarships, one less than maximum of 13, for this season, next and in 2012-13, per NCAA sanctions

#UConn assistants will be allowed fewer recruiting phone calls this year, time on the road and only 5 official visits next three years

NCAA finds that #UConn spent "more than $6,000 in improper recruiting inducements" and made over 2,000 calls to Nochimson

Nochimson ruled to have provided Nate Miles with payment for foot surgery, SAT registration and camps and clinics #UConn

#UConn also cited for distributing 32 tickets to "individuals responsible … directing activities with prospective" players, i.e. HS coaches

In total, coaches made "150 impermissible phone calls and sent 190 impermissible text messages to prospective" players, most to Nate Miles
Eric Angevine: Immediate reaction? Calhoun gets the wrist slap, and his underlings take the hard fall. Losing one scholarship doesn't sound particularly harsh, either.

Jeff Borzello: He's missed several games over the past few years due to health or exhaustion...don't think it will be a problem at all. The team has been in good hands with George Blaney.

Gary Parrish asked the first question during the conference call and asked how the NCAA reacts to the reaction that this isn't a harsh punishment, especially given the lack of a postseason penalty. He got some happy talk about the punishment being fair.

Seth Davis asked why the game penalties are delayed until next season for Calhoun, and the NCAA rep said that it allows time for the appeal process. Also why the disparity between the punishment of head coach vs. assistant coach. Answer: head coach is responsible for what happens in his program, and if someone has a show-cause that's a serious violation in terms of being forthcoming. We do not feel there is a disparity there considering what the asst did vs. the head coach.

Viewers chatting on the Courant.com site have expressed opinions varying from "Whew! now we can go get some more recruits!" to "Jim Calhoun should be fired" to "Hathaway is a waste of an AD".

Committee on Infractions chair Dennis Thomas continually referred to the fact that head coaches bear responsibility for what their assistants do, which seems to be at odds with his punishment relative to that of the people he supervised. Dana O'Neil pressed the point, and Thomas responded that a head coach can't keep track of everything and that the punishment was appropriate.

Another reporter (missed her name) asked how much consideration was given to a postseason ban. Thomas replied that it was an arrow in the quiver, and that they didn't use it. Which seems obvious.

"The committee isn't swayed by high-profile coaches. We decide on the evidence that's presented." - Thomas

Ken Davis of NBC asked how the committee settled on the number of games Calhoun was suspended. Thomas refused to comment on the process and repeated the phrase "we decided on the penalties we imposed."

Over 50 percent of respondents to Courant poll question about appropriateness of the fine responded "Too Much". over 35 percent said "Just Right".