Posted by Matt Norlander
HARTFORD, Conn. — Marquette will get out of February with back-to-back wins.
Taking two in a row hasn't been easy for the Golden Eagles this season. The last time Buzz Williams' team did it was Jan. 5, a two-game winning streak after it knocked off West Virginia at home and Rutgers at the RAC. That's hardly an impressive double dip of Ws in the eyes of the Selection Committee.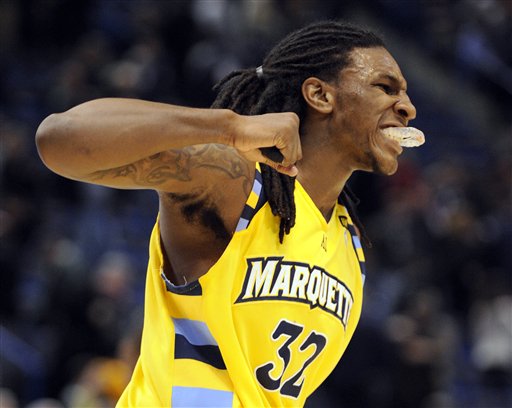 Needing a worthwhile win in the worst of ways Thursday night, the Golden Eagles went into the XL Center and got one, dramatically and unexpectedly, given Marquette's pattern of recent behavior,
taking down Connecticut in overtime, 74-67.
Now Marquette, after beating mediocre Seton Hall at home last Saturday, finally knows again what it feels like to win two in a row. It's small, but it's a winning streak. And it's got to continue, for there are no more statement games left in the Golden Eagles' regular season — only pitfalls amid a brief trek through a transparent minefield.
Golden Eagles Forward Jimmy Butler sported a smile and welcomed a pelting of questions from a small pool of reporters outside the Marquette locker room in the wake of the win. He was honest and casual about his team's improved tournament chances — however slim the improvement may be.
"I have no idea," Butler said. "I don't know what it takes to get into the tournament; I hear you've got to win 10 games in the Big East. So we're on our way to that, and we're now worrying about Providence next."
Butler and his teammates are motivated by things beyond what's rumored to be a water mark for Big Dance inclusion. Again, with gusto: For as nice and needed a victory as this was, a streak must put compiled for posterity's sake. Williams' team is looking at Providence and Cincinnati at home in the next week before finishing up at Seton Hall on March 5. Then the Big East tournament comes, and surely a win or two over shoo-in tournament teams needs to happen for the 17-11 Golden Eagles to feel secure entering Selection Sunday on March 12.
"This is a start. This is a start to win out," Marquette forward Jae Crowder (above) said. "We need to win out to be ready for the Big East tournament."
After struggling this season with close games (Marquette's record prior to Thursday night in games decided by less than five points: 3-6), the Golden Eagles won the first one that was forced to be decided in 45 minutes. UConn had 28 offensive rebounds ... and yet shot a miserable 36 percent from the field.
"I don't know if I've ever seen that before, to be honest with you," UConn assistant George Blaney said. Blaney was subbing, as he's done on many occasions, for head coach Jim Calhoun, who tended to his family in New Hampshire in the wake of the death of his sister-in-law.
The UConn assistant was echoed by his counterpart, who didn't try to qualify with logic or reason why his team pulled out a tough, close win on the road against a tournament team — something it hasn't shown it can do to this point.
"I don't know that there's necessarily any way statistically you can explain how we won," Williams said. "We couldn't make a shot. They got every 50-50 ball in the second half. They absolutely hammered us on the offensive glass. But our guys hung in there."
Marquette was able to put itself into the conversation of making the tournament once again (if it did, we could be looking at 11 Big East teams going, a new record by a margin of two) because of the clutch late play of one guy (Golden Eagle Darius Johnson-Odom) and the lack of it from another (Connecticut's Kemba Walker). Johnson-Odom had 17 points, 11 of which came in the final seconds of regulation and in overtime.
"It was me trying to force the issue too much," Walker said.
Blaney said the team was "commanding" Walker do it by himself.
Walker had two turnovers in regulation and forced about seven bad shots down the stretch. He's a Player of the Year candidate no more. Jae Crowder said he and his teammates anticipated Walker to try and take the responsibility when the Huskies trailed 34-23 at the half.
"We knew —
we knew
— especially at halftime we talked about it, that he was going to try and take over at some point," Crowder said. "We didn't know when that point was going to be, but he would try to ... jack up a lot of balls."
Crowder had a couple of really important rebounds in the second half, ironic because UConn
grabbed 54 percent of its missed shots.
Coming off the bench, Crowder had a team-high 11 of the 43 Marquette snares.
"As you can see, the shooting percentages were down in both halves," Crowder said of his group's overall 37.1-percent effort from the field. "We had to play great defense because the shots weren't falling."
Crowder, Butler, Johnson-Odom, they all were of one mind when it came to the final three games of the schedule: being mentally strong and putting off thoughts of the Big East tournament, which looms large over their team's tournament chances, is of the utmost importance. But the mind wanders, naturally. If Marquette were to lose to Providence or Seton Hall, the impact of the UConn win would most likely dwindle in the eyes of the Selection Committee.
"We're aware of that," Crowder said. "This is what can start it for us. It must."
The head coach does not and will not pretend to gauge where his team stands.
"I don't know what the appropriate response is (to winning) because I think that college basketball has come ... there's so many people who are covering, and everybody has an opinion," Williams said. "You can really get lost in the numbers of it — the bubble and the teams. ... We had to be consumed with tonight's game, not relative to winning or losing [and] how it impacts us two weeks from now."
But the impact can and must start with what happened Thursday night. A winning streak began, and it can't end any time soon if Marquette wants to join more than half of its conference brethren in the NCAA tournament, which begins less than three weeks from now.
Photo: AP