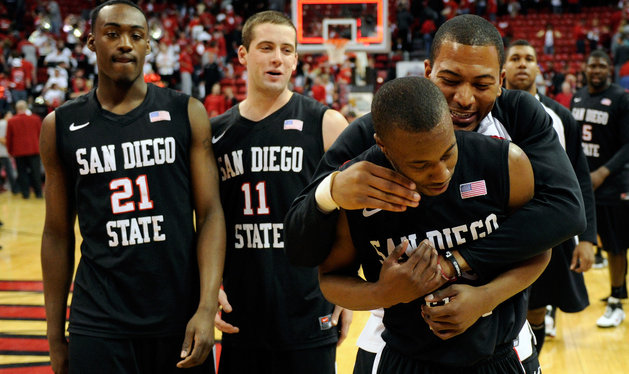 There is no bigger game this weekend than Brigham Young-San Diego State. Gary Parrish is already in southwest California, veiling his mini vacation with the occasional blog post or two.
Do check it out.
On Saturday, he'll have a feature from the game. We'll start our Weave this Friday with Jeff Borzello, who gives us a take on SDSU trying to exact revenge on against Jimmer and the Jimmering Jimmers. No way this game lives up to the hype like the first one. No way. (Please way.)
Borzello breaks it down
It's difficult to overestimate the importance of the showdown between San Diego State and BYU this weekend. In fact, I don't think it's a stretch to say that it's the biggest game in Mountain West history. (And it's on CBS!) Both teams are ranked in the top seven nationally, with SDSU sitting at No. 6 and BYU at No. 7. Each team is locked in as a No. 2 seed right now, with a chance to move to the top-seed line if they win out. Of course, winning out would likely require another meeting in the title game of the conference tournament.
In the first matchup between the two, Jimmer Fredette went for 43 points as BYU picked up a 71-58 win. That night, The Jimmer went from cult hero to the face of college basketball with arguably the most memorable performance of the season.
He will likely need to repeat that big-time outing if the Cougars are to get a road win.
Fredette is going against one of the more underrated point guards in the country, D.J. Gay. Gay rarely turns the ball over and comes up big at clutch times, but he was 0-for-7 from the field in the first meeting. He and Chase Tapley will have to slow down Fredette and Jackson Emery tomorrow. Up front, Kawhi Leonard leads an absolutely loaded frontcourt filled with match-up problems across the board. Billy White and Malcolm Thomas will be factors for the Aztecs. Does BYU have the frontline personnel to compete? Brandon Davies runs the floor and Noah Hartsock is a solid option, but they will need to come up big on the boards against San Diego State.
The key in this one will be the rebounding battle – can San Diego State dominate the glass – and The Jimmer. If he goes for 43 again, BYU has a chance. Without that, the Aztecs have too much up front for the Cougars to handle. Every eyeball in college basketball will be focused on the Mountain West come 2 p.m. tomorrow, and there is little doubt the game will live up to the hype.
Jones gets all-access pass at UK
The game that I'm most excited to see is the one I am attending in Lexington. We'll be taking CBS "All-Access" for the game,
going behind the scenes with Kentucky
for the Saturday showdown. Stay tuned all weekend here at the blog. The game could potentially be the most intriguing of the weekend from a postseason perspective, too, as Billy Donovan's Florida Gator squad, which has rolled to six straight victories, takes on
a Kentucky team that still hasn't been able to shake the "crisis" tag
that John Calipari bestowed upon them a few weeks ago.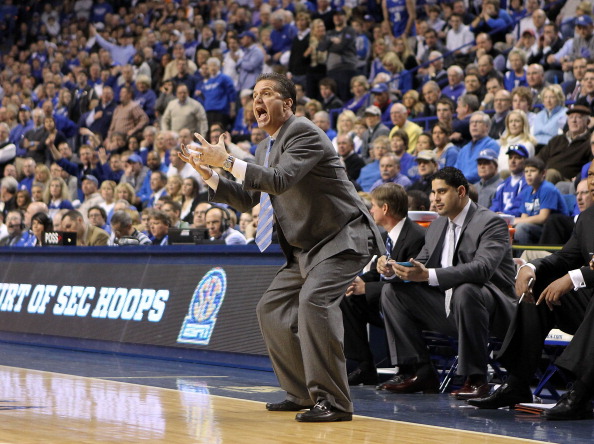 For the Gators, the game is all about improving their seeding as the top team from a maligned conference that suddenly could be putting as many as six teams in the NCAA Tournament. After non-conference losses against UCF and Jacksonville painted a picture of another middling year for the Gators, they've charged through the conference, winning nine of their last ten, and again placed themselves on the cusp of a top-10 ranking.
Chandler Parsons appears to be healing well from a deep thigh bruise that limited him against Tennessee and left him on the bench against LSU after contributing 16 points and 7 rebounds in a win against Georgia Thursday night. Having him back healthy with a core group of the continually improving Erving Walker and Kenny Boynton and the serviceable Alex Tyus and Vernon Macklin could prime the Gators for postseason success.
They've developed into a versatile team that commits themselves to rebounding and execution in close games
(8-1 in their last nine games that went to overtime or were decided by six points or less)
and closing their conference slate with wins against the three best SEC teams (Kentucky, Alabama and Vanderbilt) could earn them a nice seed in the NCAA Tournament.
Kentucky, meanwhile, is trying to again take the next step toward being a cohesive unit and capturing the "upside" that so many experts have seen hiding beneath the surface of a talented, albeit thin, roster. The Cats dropped another road contest in Fayetteville Wednesday night, running their conference road record to 1-6, and again raising questions about why they haven't been able to find their stride late in the season. If there is a simplified reason for their struggles away from Rupp Arena, it's because they've been unable to do the things that Florida has done in their victories.
They turn the ball over down the stretch. They give up offensive rebounds. They miss open shots.
The good news is that they return to Lexington, where John Calipari is undefeated
and where they've beaten conference opponents by an average of 18 points per game. For that trend to continue, though, they'll have to find a way to overcome the struggles that have plagued them on the road against a Florida team that will enter as the most talented visitor of the season. The parts are all in place for the Cats and they have the talent to win this game and be a threat in the both postseason tournaments. They just need them to start clicking and for the light to finally come on Saturday.
Angevine picks his three
Wichita State @ Missouri State,
1 ET, ESPN2: This is a huge game for the Missouri Valley, which means it's a huge game for anyone who keeps track of possible tourney bids. Wichita State was the preseason favorite, but an OT loss to the Bears at home in January, coupled with the Bracket Busters loss to VCU, make this a must-win contest for the Shockers. What a perfect final game of the season for these two teams as they try to grab the No. 1 seed for Arch Madness, as the MVC tourney in St. Louis is known.
St. John's @ Villanova,
2 ET, ESPN: Steve Lavin's Red Storm are in the national Top 25 thanks to some marquee wins in Madison Square Garden. That's enough to get them in the NCAA tournament, but a nice road win in their only regular-season matchup with 'Nova would go a long way toward making them a higher seed and a real threat in the Big Dance. It's also another great chance to watch Dwight Hardy burst out of his shell on national television.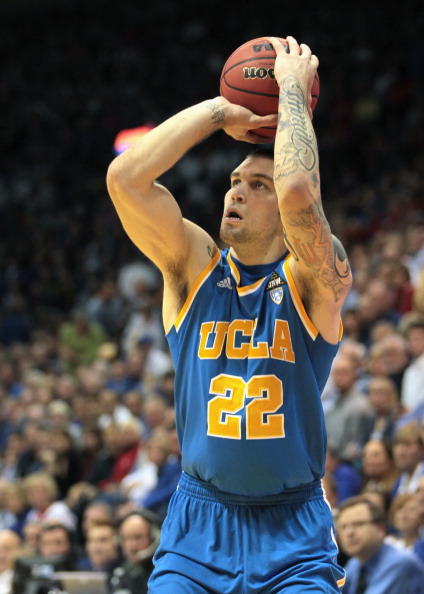 Arizona @ UCLA,
4 ET, FSN: This was already a big game before last night's upset of the Wilcats by the USC Trojans. Now, it's nothing less than UCLA's chance to get back in the Pac-10 title race in a big way. Just one game back of Arizona, at home, Reeves Nelson (right) and the Bruins likely lock up a bid with a win. Both teams looking to wipe some tarnish off of their blue-chip reputations following a couple of down seasons. This one should be highly emotional and hotly contested. The Wildcats can own their own destiny with a victory, thanks to an earlier win at the McKale Center.
Norlander wants clarity
Hey, we've got conference tournaments coming up soon, so more than anything, I'd like as much to be resolved this weekend as possible. There are games out there in which teams can virtually lock up bids or pin themselves into the NIT's corner. Clarity is fun! We'll get it if the following transpires ...
Missouri @ Kansas State (Saturday, noon, ESPN).
Missouri's a terrible road team. Frank Martin gets to 20 wins with a victory here. Compile this win with the Kansas one on the road, a sweep of Nebraska, wins over Virginia Tech, Gonzaga and Washington State? Yeah, believe it: K-State is snapped into the tournament puzzle picture should it beat the Tigers.
Duke @ Virginia Tech (Saturday, 9 ET, ESPN).
No bubble team has more on the line with one game than this. Hokies need a signature win. They've known all season this is the game. All season. Win and keeping Greenberg's team out will be hard ... unless they blow it next week.
Texas A&M at Baylor (Saturday, 9 ET, ESPNU).
Bears lose and it's four straight losses to D-I opponents. Buh-bye.
UConn @ Cincinnati
(Sunday, noon ET, ESPNU).
People think the Bearcats locked up a bid with a win over Georgetown Wednesday. I'm not people. After this UConn game, Marquette and Georgetown still remain in the regular season. What if Cinci was to lose all three. Would you still consider it a lock? Exactly. But winning here gives Cinci wiggle room to drop its final two games and lose in the Big East tournament. Win and in. Period.
Purdue @ Michigan State (Sunday, 1 ET, ESPN).
Washington, Wisconsin, Illinois and Purdue, if Michigan State wins. That's what Tom Izzo can hang from the window, in terms of wins. Folks, if the Spartans take this, they're going to dance. Unbelievable.
Xavier @ Dayton (Sunday, 1 ET, ESPN2).
Dayton may not be on your radar, but it's 19-9 and very much hiding in the shadows. A win won't have as much effect as a loss here, meaning Dayton's at-large chances are gone if it falls.
Maryland @ North Carolina (Sunday, 7:45 ET, FSN).
Terps are about done, but if they lose here, it's official. Only Virginia and Miami are left on the schedule. Winning the ACC tournament is all Maryland could do to get a bid.
Photos: Getty Images