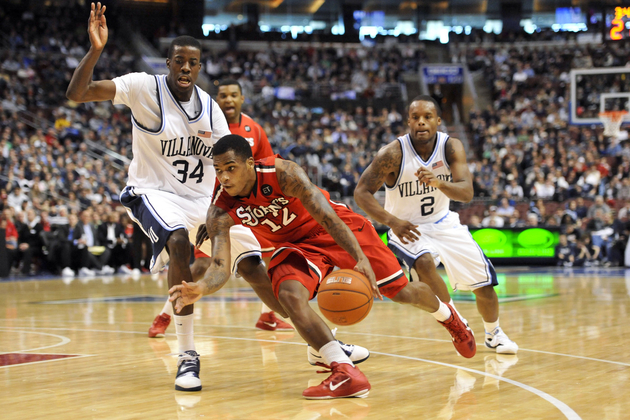 Posted by Eric Angevine


I'll be honest here. I thought Steve Lavin might get St. John's back to .500 in Big East play this season; give the most New York of college hoops teams a good foundation to build on as the recruits poured in.
He's done me several digits better on that prediction. After garnering a huge 81-68 road win at Villanova, the Red Storm are 11-5 in the Big East, on an inside track to lock down one of the four double-byes in the Big East tournament, which is played in their house. Sound preposterous? It's not. The Johnnies end their regular season with winnable games at Seton Hall and home against South Florida.
Emerging superstar Dwight Hardy earned a new career high with 34 points with a balanced approach, hitting 9 of 17 from the floor, 11 of 13 at the line, and 5 of 9 from deep.
In fact, the entire Red Storm team more or less out-'Nova'd 'Nova in the first half, roaring out to a quick 18-4 lead to open the game on a flurry of made three-pointers. As the game wore on, more of the action took place inside the arc, where D.J. Kennedy's 14 boards were nearly double what any other player on either team contributed.
Throughout, the Johnnies displayed poise and patience, resetting the offense at times in the second half when offensive rebounds gave them second and third chances. It was no surprise to see St. John's score successfully on runouts, but the newfound ability to get gritty and hold on for a win against a determined opponent says a great deal about how this team has grown over the past month.
The conversation surrounding Steve Lavin has evolved at light speed. It went from "Is he too rusty?" to "Can he recruit?" to "Can he win a few Big East games?" to "Is this team going to get a top-four seed in the NCAA tournament?" in one season. After this big road win, doubters will be very difficult to find.
Photo: US Presswire