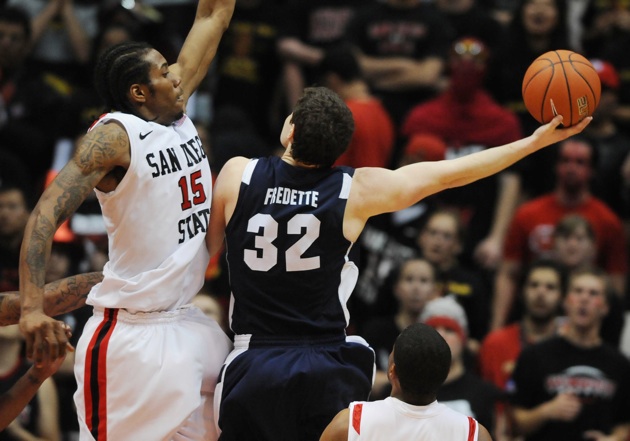 Posted by Jeff Borzello
It's only about five hours into arguably the biggest weekend of the college basketball season so far, but it's been an exhausting five hours. Don't worry, though, we here at "Eye on College Basketball" are here to catch everyone up. Let's get right into it.
First, we already waxed poetic about three games:
No. 17 Syracuse 58, No. 11 Georgetown 51: Borzello - Hoyas struggle without Chris Wright
No. 7 BYU 80, No. 6 San Diego State 67: Borzello - BYU is more than just Jimmer
No. 23 St. John's 81, No. 15 Villanova 68: Angevine - Hardy, Lavin eliminate doubters
Kansas State 80, No. 20 Missouri 70: Jacob Pullen scored 24 points to move Kansas State further away from the bubble. Interestingly, the Wildcats had the game-winning run with Pullen saddled on the bench with four fouls. Kansas State has now won six of seven after being left for dead about a month ago. The victory also gives the Wildcats another top-25 win to add to their resume. On the other side, Missouri continues to struggle on the road, dropping to 2-6 in that category.
Boston College 63, Virginia 44: The Eagles were down in the first half, but a 26-4 run spanning both halves kept their at-large hopes alive. Coming off a home loss to Miami (Fl.), Boston College needed this victory. The Eagles are back to .500 in the ACC, with an enormous bubble game coming up on Tuesday at Virginia Tech. Reggie Jackson had 25 points, while Corey Raji finished with 17.
James Madison 72, VCU 69: The Rams had slim at-large hopes after they beat Wichita State on the road last weekend, but tonight's home loss was their third straight CAA defeat. Six conference losses and three sub-160 defeats will relegate this team to the NIT.
Missouri State 69, Wichita State 64: In a winner-take-all season finale, Missouri State picked up its first-ever Missouri Valley title. After David Kyles tied the game with just over a minute left, the Bears' Adam Leonard responded with a high-arcing 3-pointer that would prove to be the game-winning shot. Missouri State gets the No. 1 seed in the conference tournament, while Wichita State will enter it as the No. 2 seed. Hopefully we get to see a third bout between these two clubs.
Milwaukee 94, Youngstown State 87: Youngstown State had a chance to win the game in regulation, but two point-blank shots didn't fall. Milwaukee took charge in the extra period, pulling away immediately. With the win, the Panthers clinch the No. 1 seed in the Horizon League tournament. Butler also won, defeating Loyola (Ill.), which gives the Bulldogs the No. 2 spot. The top-two seeds earn double-byes in the conference tournament.
Iowa State 83, Nebraska 82: With the Cornhuskers' overtime loss, let's not mention them in association with the bubble anymore. A 6-8 Big 12 record, a sub-300 non-conference SOS and three sub-125 losses? Not even close.
Florida State 69, Miami (Fl.) 59: The Seminoles are still trying to prove they are an NCAA Tournament-worthy team – with or without Chris Singleton. Florida State coasted through most of the game, getting out to a 16-2 lead and a 36-16 halftime score. The game wasn't as close as the final score would indicate, due to a late Hurricanes' rally. A big match-up at home against North Carolina awaits Florida State on Wednesday. Win there, and there will be no doubt on Selection Sunday.
Temple 57, George Washington 41: Temple is essentially in the NCAA Tournament, but avoiding bad losses is still a plus. The Owls were down for the first 29 minutes of this one, but ended the game on a 19-2 run to pick up the win. Given the bad bubble, Temple is a lock to dance.
Vanderbilt 90, LSU 69: You wouldn't know it by the final score, but Vanderbilt was losing for the entire first half. The Commodores bounced back with a 49-point second half, staying ahead of Kentucky, Tennessee and Georgia for second-place in the SEC East.
UTEP 74, Memphis 47: Conference-USA is going to be a one-bid league, especially after this result. A gaudy RPI won't save the Tigers, especially with the best non-conference wins coming over Gonzaga and Miami (Fl.). Combine this loss with a 15-point blowout at the hands of Rice last weekend, and Memphis needs to win the automatic bid. As does everyone else in C-USA.
Photo: US Presswire