Posted by Matt Norlander
It pains me to write it — our Jerry Palm
is most likely right
in this regard — but Texas is no longer one-seed worthy.
The wrongful laments of college basketball's parity-ridden season don't change the fact there's
too much talent at the top
for Texas to now overcome the horde and earn itself a top seed. (Bad streaks of losses from other one-seed contenders notwithstanding, of course.) The Longhorns are now 24-5 and have Ls to Southern Cal, Nebraska and Colorado ... three teams who could easily not be playing meaningful basketball in March.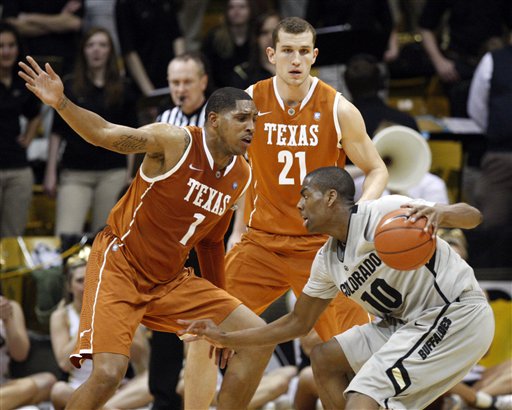 Duke, Ohio State, Kansas, San Diego State, Pittsburgh, Purdue, BYU — they don't have those kinds of trip-ups on their résumés, which is as valuable in getting a one seed as the number of good wins a team compiles.
Even if
today's bizarre second-half
against Colorado, a game the Buffaloes won, 91-89, is rightfully viewed as an outlier in terms of Texas' defensive tendencies, the tournament Selection Committee won't see it as such when it doles out one seeds two weeks from today.
The outlier performances can easily cost teams places on seed lines. Texas won 11 of its first 12 Big 12 games by double-digits. I'd written a few times about how amazing Texas' D was, because it was that:
amazing.
But no such luck for Rick Barnes' team's
incredible efficiency margins
today, as Alec Burks, a future pro, goes off for 33 points and 10 rebounds and leads the Buffaloes to a 55-point second half. Suddenly, Colorado is in the at-large conversation, though it's got a ways to go.
It is simply stunning, despite this happening on an opponent's floor, that Texas blew a 22-point lead. Today's game was so odd. So, so odd. Good on Colorado to take advantage of its home court and cut off the head of the monster, but I'm not sure this loss signals anything for Texas aside from seed demotion (which is significant, certainly).
Consider: Every other one-seed contender has three losses at most. Duke, BYU, Kansas and Ohio State all have two losses. San Diego State even only has two, but its chances of taking a top seed could have went out the window by nature of getting swept by the Cougars today. Consider Pittsburgh's three-loss tally and it seems highly unlikely the 'Horns can get anything better than a two now.
Not that there's anything wrong with that.
The conference tournaments leave a lot on the table. If Texas were to beat Kansas in the Big 12 title game, then it'd have a 2-0 advantage on the Jayhawks. I'm digressing here, but let me finish this post by speculating just what would happen if Texas swept Kansas and San Diego State won the Mountain West tourney over BYU, giving BYU a 2-1 record this season against the Aztecs.
Possible all four teams would win up as two seeds? Seems unlikely, but it's still a possibility, especially if Purdue continues to win.
The chase for the one seeds is still wide open, only Texas is now taking in the view from behind the rest of the pack.
Photo: AP