Posted by Matt Norlander
Cincinnati, sit down.
Don't believe what people are telling you, that right now we've got 10 or 11 Big East teams in the NCAAs. As of today, that's a very arguable point.
The Bearcats
are another bubble team that's been pump-faked.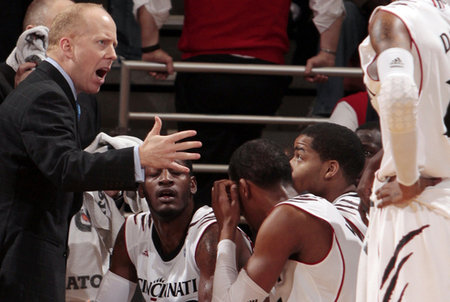 I don't mean to be the Grinch
that's stealing bids here,
but why's Cinci guaranteed a spot? The Bearcats couldn't win today at home against UConn, so let's just wait a little bit longer to give the Big East its 10th postseason bid. (Marquette would be the 11th in the pecking order at this time.)
"Our guards got as outplayed as you possibly could today," coach Mick Cronin said in the wake of
his team's 67-59 loss.
The loss to the Huskies isn't a bad one, it just doesn't bolster the feeling that Cinci's surging toward rightful inclusion in the field of 68. Three previous wins over Louisville, Providence and Georgetown put UC in nice position, but all of Cinci's good will has come from a schedule it has no control over.
When you're strength of schedule outside of the Big East ranks 334th out of 345 teams, you put yourself and the NCAA Selection Committee in a place where it's got little wiggle room. Some believe Mick Cronin scheduled down to keep his win total high, which in turn helps him keep a grip on his job. But the foreseen casualty of that kind of scheduling: stumbles in the conference expose the weak-minded approach to November and December, and now the dirty laundry is out there for everyone to see.
What remains for Cincinnati in the regular season: a road date against Marquette (such a chewy bubble game) and then home against Georgetown.
If Cinci loses both of those games it goes to 9-9 (22-9 overall) and is faced with a situation where it'll need to win two Big East tournament games, minimum, to feel somewhat comfortable. Now, if it beats Marquette and Georgetown? Moot issue. A number of teams face that this week, in fact. Just win out the final two games of the regular season and don't make the conference tournament a do-or-die scenario.
For any Bearcats fans reading this and boiling with anger: I
do
think Cinci eventually gets in, but I never put the Bearcats into The Dance in the weeks prior, and I won't do so now. Prove it with two more wins, wherever they come from, and Tournament inclusion will follow.
Photo: US PRESSWIRE