Posted by Jeff Borzello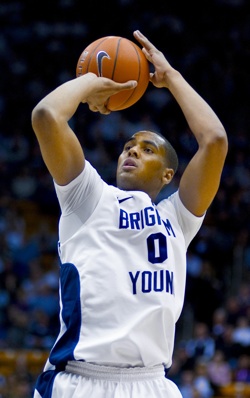 A win at San Diego State, a consensus No. 1 seed in mock brackets and the inside track to a Mountain West title – the good vibes for BYU were adding up.
That changed on Tuesday, as forward Brandon Davies was suspended for the rest of the season after an Honor Code violation, as first reported by Jason Franchuk of the Daily Herald. The school confirmed the report shortly thereafter.
"Due to a violation of the BYU honor code, Brandon Davies will not represent the university on the men's basketball team throughout the remainder of the 2010-11 season," a release from the school stated.
There was no further information given, although the Herald did report that Davies and three other players missed Monday's practice. He was receiving treatment for a quadriceps injury, according to Franchuk.
Davies, a 6-foot-9 sophomore, had started 26 games this season for the Cougars. He was averaging 11.1 points and 6.2 rebounds, giving BYU a big man who could run the floor and finish in transition against slower post players.
Without Davies in the lineup, expect Stephen Rogers to see more time down low. Rogers is an inside-outside threat who showed flashes of his potential with three double-figure scoring games in February.
Photo: US Presswire