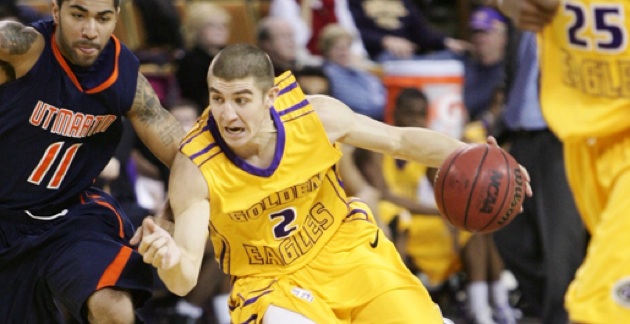 Posted by Jeff Borzello
The title of "most clutch player in the country" doesn't belong to Jimmer Fredette or Kemba Walker or Nolan Smith this season.
It belongs to someone who does not even average double-figures in scoring, Tennessee Tech junior guard Zac Swansey.
Swansey has hit five game-winning shots for the Golden Eagles this year, the latest coming against Jacksonville State last weekend, when he knocked down a 3-pointer with 37 seconds left to give Tech a two-point lead.
"It's his innate ability to do that," head coach Mike Sutton said. "When we need someone to make plays, he's capable of making those plays."
Swansey has hit game-winners against Eastern Illinois on two separate occasions, as well as Austin Peay, Tennessee State and Jacksonville State.
"It hasn't really sunk in yet," he said of the multiple clutch shots. "We've had such a good season that I haven't really thought about it."
The biggest – and most memorable – one might have been the shot he hit against Austin Peay on the road. After an offensive rebound, Swansey took a pass and pulled up from 22-feet for the winner with two seconds left.
Since then, the Golden Eagles are 10-3 and earned a bye in the Ohio Valley tournament.
"It was a nationally televised game on ESPNU, and they were the number one team in the conference at the time," Swansey said of the Austin Peay game. "And to go into a hostile environment like that and hit that shot, I loved it."
"You have to trust guys, it's not always how you draw it up," Sutton added.
Swansey's buzzer-beating ways date back to his days at Georgia, where he spent two seasons before transferring to Tennessee Tech.
While in Athens, Swansey had a couple of up-and-down seasons, but he made one of the more memorable shots of the 2007-08 season, when he hit a turnaround 3-pointer with 1.2 seconds left to beat Kentucky in the SEC Tournament.
Swansey hit three game-winning shots at Georgia, according to Sutton.
"In high school, I didn't have those opportunities in close games," Swansey said. "The one against Kentucky when I was at Georgia was my first. And it just stuck with me through the years."
After head coach Dennis Felton was fired during Swansey's sophomore season, Swansey thought it was time for a change. Sutton recruited Swansey hard while he was in high school, and wanted him again once he got his release from the Bulldogs.
Sutton, who has also spent time at Kentucky, had high praise for Swansey.
"He's the kind of player where you can the put the ball in his chest and have him run your team," Sutton said. "He's the best overall passer I've ever coached, and he really sees the play."
The transfer has paid off incredibly for both sides, with Swansey leading the Golden Eagles to their best campaign since 2007.
Swansey hit his first game-winner this season in mid-December against Eastern Illinois; ironically, it was his only field goal of the game.
"As a point guard, I'm supposed to find a way to get us wins," Swansey said. "If that means hitting a game-winning shot, that's what I'll do."
Considering Swansey is the leading assist man in the conference, and Tennessee Tech has an all-conference forward in Kevin Murphy, it might seem strange that Swansey is the go-to-guy down the stretch.
Swansey said not being the focal point of the defense has helped him.
"We have so many scorers, such a balanced team," he said. "It's a team effort. I look for opportunities to lift my team and I think my teammates look for me to do that."
Sutton added that he has complete confidence in Swansey to make the right decisions and get the ball in the right hands, whether it is a teammate's or his own.
As Tennessee Tech prepares for the quarterfinals of the Ohio Valley tournament, the Golden Eagles have a trump card not many teams can match: a player who is not afraid to take – and make – big shots.
Naturally, they don't want it come down to that, but Swansey said he wouldn't hesitate to take a shot to put Tech in the NCAA Tournament.
"No doubt – and I want that," he said. "I want the ball in my hands. I have a lot of confidence in myself. If it comes to down to me, that's what I'll do."
Photo: TTUSports.com