Posted by Jeff Borzello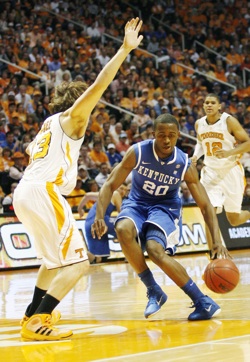 Prior to Sunday's game at Tennessee, it was unclear whether Kentucky was capable of winning a close game away from home – or a road game in general.
The Wildcats were just 1-6 in SEC play on the road, with the losses coming by a grand total of 18 points.
Kentucky erased those demons against the Volunteers, though, finishing the game on a 13-6 run to get a 64-58 win. The Wildcats overcame a double-digit lead in the first half, and seemed in control for much of the second stanza. Brandon Knight continued his development into an elite point guard, scoring 19 points, while Terrence Jones finished with 15 points and 12 rebounds despite struggling from the field. Darius Miller also had his sixth consecutive double-figure scoring game, going for 15 points.
The key down the stretch was Kentucky's absolute dominance on the offensive glass. The Wildcats picked up six offensive rebounds in the final 5:35, as Tennessee constantly failed to box out on missed shots. In fact, Kentucky had seven points in that last stretch on possessions in which it grabbed an offensive board.
Up by three, Miller missed a contested jumper, but no one boxed out Josh Harrellson, with Tennessee needing to knock it out of bounds to prevent a wide-open put-back by Harrellson.
Kentucky is a team that most of the country has been on the fence about over the past few weeks. The Wildcats have as much talent in their starting five as anyone, but they lack depth and never proved they could win away from home. This win gives them a bye in the SEC Tournament and could be a momentum-builder heading into the postseason.
The Wildcats now know they can go into a hostile environment and come out with a close win against a quality opponent. Moreover, given the way Big Blue Nation travels, they might not face a more difficult fan base the rest of the season.
For such a young team, momentum and confidence might be the most important factors. Kentucky now has both.
Photo: US Presswire