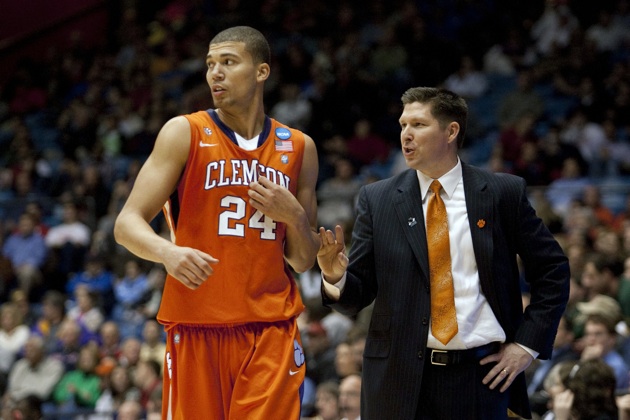 Posted by Jeff Borzello
People who thought that neither Clemson nor UAB deserved to make the NCAA tournament were hoping to see a poorly played debacle of a game better suited for the NIT.
Instead, they saw one team that can potentially upset West Virginia and, well, whatever UAB was on Tuesday.
Clemson was clearly motivated by the detractors, going on an 18-2 run early in the first half to jump out to a 25-7 lead. The Tigers never looked back from there, cruising to a 70-52 win that wasn't as close as the score would indicate.
UAB made six two-point shots. That's it. The Blazers were 6-for-24 from two-point range, needing to knock down 12 3-pointers to stay within striking distance (if striking distance was four possessions or so). They turned the ball over 19 times and took just seven foul shots.
It certainly wasn't the type of effort that would make anyone think UAB deserved a bid to the NCAA tournament.
On the other side, though, Clemson certainly proved the doubters wrong. The Tigers used pressure defense and transition baskets to get off to an early lead, and then staved off UAB runs with timely steals and points around the rim. Clemson absolutely dominated the paint, getting 43 points and 17 rebounds from the post trio of Jerai Grant, Devin Booker and Milton Jennings.
Will Clemson continue to use the extra motivation and give West Virginia a run for its money come Thursday at noon? As an aside, why is Clemson even playing at noon on Thursday? A 36-hour turnaround seems unfair.
The Tigers are playing their best basketball of the season, with competitive losses to Duke and North Carolina the only negatives since mid-February. With the way they are playing defense, they can upset West Virginia.
The Mountaineers can be prone to turnovers, and Clemson's aggressive defense will look to exploit that weakness. West Virginia is not a good shooting team at all, and can stagnate offensively. The key for the Tigers will be their ability to box out on the defensive end. West Virginia is one of the best offensive rebounding teams in the country, and Clemson does struggles at times to rebound consistently.
West Virginia is more physical than Clemson, so the Tigers will need to use their speed and transition game to get points. If they can force turnovers and not allow too many second-chance opportunities for West Virginia, keep an eye on this game.
Win or lose, it's tough to imagine another question concerning Clemson's inclusion in the field of 68.
As for UAB...
Photo: US Presswire