Posted by Chip Patterson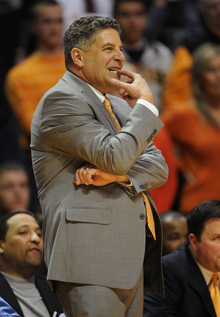 CHARLOTTE -
Tennessee
head coach
Bruce Pearl
stammered his way through the mandatory news conference on Thursday, trying to redirect attention towards the Volunteers' matchup with
Michigan
the next day. But media members in attendance had little interest in getting answers on Pearl's plan to stop
Tim Hardaway, Jr.
"I know there's going to be a lot of questions regarding my status, so I'll address that first and then we'll move on to questions," Pearl said as he opened his time with the media.
But there was no moving on. Just as the players were, Pearl was grilled from all directions on his job security. All of this of course stemming from athletic director
Mike Hamilton's
comments to a local radio station. When asked if Pearl would coach next season, Hamilton said "we don't know that answer today."
Pearl is scheduled to defend himself in front of the NCAA infractions committee in June. There he will plead his case as to why providing false/misleading information to the NCAA does not deserve the harshest of punishments. Pearl said something particularly interesting when asked if he foresaw himself as the Volunteers head coach at that hearing.
"You know up until recently, I would," Pearl answered. "That's still the case. The announcement was I'm going to be evaluated, and so how much of a departure from what's been said, I'll find out when I get evaluated."
But how will all these distractions effect the Volunteers against Michigan tomorrow. The players could not dodge the question, no matter how hard they tried. They all say the focus is there, but there is certainly room to doubt. However, when asked, the players do seem to believe Pearl's job is safe.
"I fully anticipate Coach Pearl to be back next year," said junior guard
Cameron Tatum
. "As all my teammates said earlier, we can only worry about controlling what we do in between those lines and focus on our preparation for the game."
The players are saying all the right things, that's for sure. But if there was an "intangibles" advantage heading into tomorrow afternoon's second round tip (12:40 ET, truTV), it definitely favors the Wolverines.