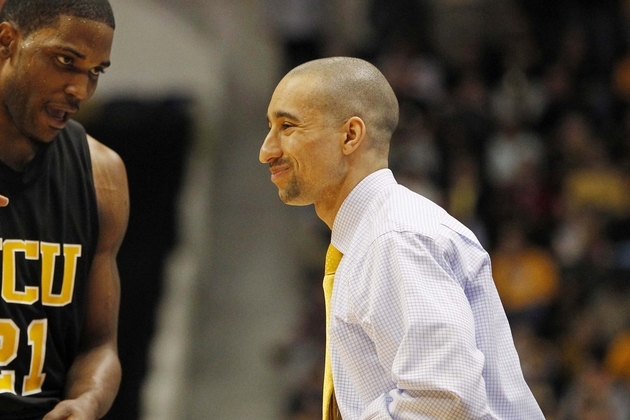 Posted by Eric Angevine


Gary Parrish has
sources who confirm that Bruce Pearl is on his way out
at Tennessee. This is not unexpected news, at all.
If the Vols want to keep things running smoothly, they should hire the hot coach of the hour, as soon as he becomes available. That means Shaka Smart of VCU. Sure, some fans will agitate for someone with a bigger name (nobody has a cooler one), like Buzz Williams. Williams would actually be a great fit, but he's already in the Big East, and competition for his services will be stiff after this tournament run ends. He may also not much like the looks of rebuidling a program on probation.
But what about Virginia Commonwealth's Shaka Smart? A move to the SEC would be a step up in money, and the facilities at Thompson-Boling are top-notch.
Smart runs an up-tempo system that will appeal to Volunteer fans, players and recruits. Even if it was his fate to lose a few games right out of the gate, his teams would look good doing it, and he'd never give up. He also has an SEC pedigree, having coached under Billy Donovan at Florida. In fact, when he left to take the VCU job, he was replacing another Donovan protege, Alabama head man Anthony Grant. Perhaps the key to building a stronger SEC hoops profile is to hire as many Florida (or Kentucky) assistants as possible.
Smart's Rams have become the first school to make the Sweet 16 by winning three games, thanks to a berth in the inaugural First Four competition. Let's not assume that 1) he'll be easy to get or 2) he'll be willing to jump the first time someone shows him a check. The odds of his stock getting hotter than it is right now are pretty slim, though, with Jamie Skeen, Ed Nixon, Brandon Rozzell and Joey Rodriguez ready to graduate. Then again, there are always other jobs.
Smart is... well, smart. He is intelligent enough to know that this isn't going to be the best job in the world. He knows he's hot right now, and can wait to see what else pops up. But he's also smart enough to know how to rebuild the Volunteers, and do it without all of the scandal the UT football and basketball programs have brought aboard recently. He'd be in much the same situation as gridiron coach Derek Dooley, who took advantage of an opportunity to move from Louisiana Tech to one of the nation's top historical programs last summer. Smart might be too hot for such a move right now, honestly. He'd look even better at Missouri, should the rumors of Mike Anderson's departure be true. He wouldn't even have to buy any new ties.
If Tennessee has the money, and a plan of patient support in place, they just might be able to make the hire they need to make.
Get Smart. Hire Shaka.
If UT can't, perhaps they should just cut out the middle man and hire one of Billy Donovan's assistants directly.
Photo: US Presswire