Posted by Matt Norlander
No sooner do I write about about the
baffling nature
of Butler's back-to-back Final Four berths ... and in walks UConn. Equally gobsmacking in many ways. A 30-9 record and going to the Final Four. Still undefeated in tournament-format play this season.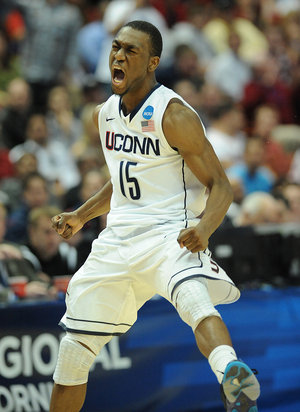 Shake your head, clap your hands wildly and accept this incredible run from one of the most unlikely major-conference Final Four teams of the past decade.
There were signs of this, though no one could be expected to deconstruct the writing on the wall. When Connecticut was thought to be a middling team with faint NCAA tournament hopes, back in November, it rolled through the Maui Invitational. That was Shocker No. 1. It put UConn into the top 10 in the rankings after not having a number next to its name prior to that tourney. Then the
five-wins-in-five-days extravaganza
two weeks ago in Manhattan, something that hasn't ever been done at any level of college basketball before. And now four more Ws, getting UConn to 12-0 this season in bracket play, and a round-trip ticket to Houston.
...
You kidding me with this team? It's still playing? If you ever want to make the case momentum can exist in college basketball, point to these boys.
What are the adjectives you'd like me to use? We've got a whole bin to pick from here that would be appropriate. We can use unprecedented. Remarkable. Freaky. Anomalous. Scary. Unstoppable. Kemba-catapulted. I'll stop now because I've got a blog post to finish.
Huskies fans, don't hate me for saying this, but, this doesn't seem right. I mean, it does, because Connecticut has the best player in program history (that's official now, by the way; I'll check in with more on that next week from Houston), but the team doesn't feel Final Four-esque. No matter how much it wins, all the praise it rightfully gets has that backdrop of can't-believe-this-is-happening to it. That's why we're so surprised! The unexpected, unexplainable aspect of this is paired with all the love it is receiving. One hand feeds the other. They are worthy, but still, we keep our fingernails close to our scalp, scratching for answers.
How it's getting done, I'm not entirely sure. One player doesn't ever carry a team to a title; that's an easy storytelling tactic to fall back on, but it's always more than just one guy. This team finished ninth in the Big East. You know this. I'm reminding you, because it's flat-out stupid how good UConn looks right now. It's better than ninth-in-the-Big-East, and better than the 4-7 record it finished its regular-season slate with. Behind Walker's era-defining play and the surge of freshman Jeremy Lamb (I
told you about him earlier
this season), Connecticut's dream season continues.
Nothing but respect and happiness for making this bracket fun and keeping a star player in the mix. A beautiful tandem that always delivers.
Last thing: Can you imagine UConn and Butler meeting in the title game? It'd be the most unlikely championship game in the modern tournament era. I think I'm rooting for it, regardless of who wins Sunday.
Photo: US PRESSWIRE