Posted by Jeff Borzello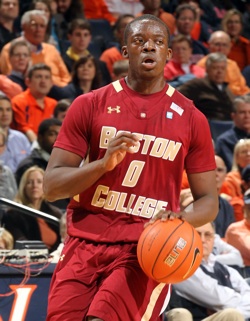 Despite Boston College's struggles to finish the season, guard Reggie Jackson remained one of the most improved players in the country.
Now, Jackson is looking to take his game to the next level.
The 6-foot-3 junior entered his name into the NBA Draft on Wednesday, but did not hire an agent. Jackson can return to the Eagles for his senior season.
Under new head coach Steve Donahue, Jackson thrived. He averaged 18.2 points, 4.3 rebounds and 4.5 assists and demonstrated his explosiveness on a nightly basis. Due to his size and playmaking ability, Jackson is projected as a first-round pick.
Even with Jackson, Boston College is headed for a very rough year. The Eagles lose eight seniors, including four starters. Joe Trapani, Corey Raji and Biko Paris are already gone, leaving Danny Rubin (4.1 ppg) as the leading returning scorer.
Donahue is bringing in a solid recruiting class, with guards Jordan Daniels and Lonnie Jackson, and forwards Ryan Anderson and Kyle Caudill leading the way. They won't be enough, though.
Jackson's stock is at its peak right now; don't expect him to return to a rebuilding team.
Photo: US Presswire