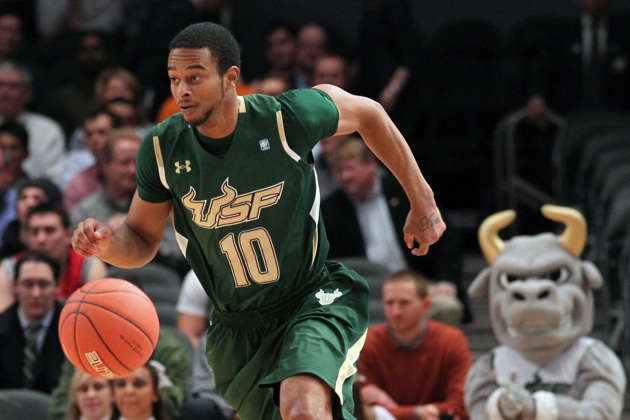 Posted by Brett McMurphy
TAMPA, Fla. – South Florida senior point guard Anthony Crater was dismissed from the program for failing a third drug test, sources told CBSSports.com.
The school announced the dismissal as a "violation of team rules." The penalty for a third positive drug test, according to the school's substance abuse policy, is immediate dismissal.
"I am disappointed for Anthony," USF coach Stan Heath said in a statement. "He is a good young man, who made a number of positive contributions to our program, but he made some mistakes and was unable to meet our team's standard. I am hopeful he will learn from this experience and achieve great things in the future."
Before transferring to USF, Crater failed a drug test at Ohio State according to a source. A month after arriving at USF in December 2008, he was arrested for possession of marijuana on Jan. 23, 2009 with teammate Mike Mercer, but the charges were eventually dismissed in June.
Before Crater was even eligible to play after sitting out a transfer season, he had already failed two drug tests at USF, sources said. He was suspended for six games of the 2009-10 season, matching the school's substance abuse policy for a second positive drug test.
Also in April of 2009, Crater and two teammates were the primary suspects in a theft of nearly $8,000 worth of items stolen out of the dorm room from two other players, according to a Hillsborough County Sheriff's Office report.
No charges were filed, but Crater confessed to a Hillsborough County sheriff's detective during the investigation that he "took (a player's) necklace and watch because he thought it (belonged to another player)."
Last season as a junior, Crater started 29 games, averaging 3.9 points and 4.6 assists for the Bulls, who won only 10 games and set a school record with 23 losses.

Photo: US Presswire